Online course platforms are especially useful for schools providing distance learning and changing the way how we learn implementing the latest technologies so people can teach from the convenience of their own home.
Top 10 Online Course Platforms
Finding Online Course Platforms that suits your needs can be challenging. The best platforms to create and sell online courses provide a simple-to-use course builder, templates to build a website, and billing and marketing tools.
Kajabi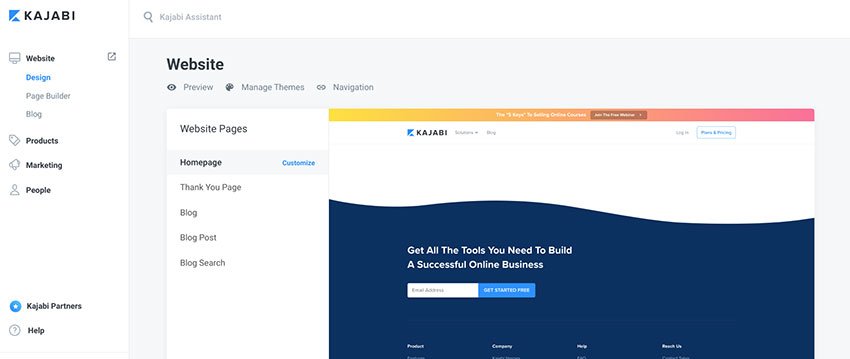 Kajabi is a content marketing system that offers individuals and SMBs a single and centralized platform from which to sell, market and deliver product content.
All the tools you need to start and manage your online business are here under one roof. Kajabi is a great tool for course creators and business owners who need a course platform.
You receive some great solutions for email marketing, revenue maximization, and sending out quizzes and surveys. Kajabi is one of the most powerful online course platforms out there.
Pricing starts at $119/month billed annually. Kajabi offers a free trial.
Features:
Email analytics
Import/export data
Blog
Affiliate management
Application integration
Automatic notifications
Client portal
Communication management
Compliance management
Content library
Credit card processing
Custom forms
Customer database
Customizable branding
Customizable templates
Discussion board
eCommerce integration
Electronic payments
Email integration
Email tracking
Employee portal
File management
Forms management
Image library
Instant messaging
Lead capture
Message board
Mobile integration
Multi-currency
Multiple admin users
Pipeline management
Promotions management
Secure data storage
Subscription services
Template management
Third party integration
Video management
Video hosting
Design management
Discount management
Email monitoring
Data import/export
Drag & drop interface
Custom landing pages
Customizable fields
Knowledge base
Landing page templates
Role-based permissions
Surveys & feedback
Web forms
Course catalog
Reporting & statistics
Tagging
Document management
Contact management
Bulk send
Engagement analytics
Commenting
Email marketing
Lead nurturing
Website management
And more
Teachable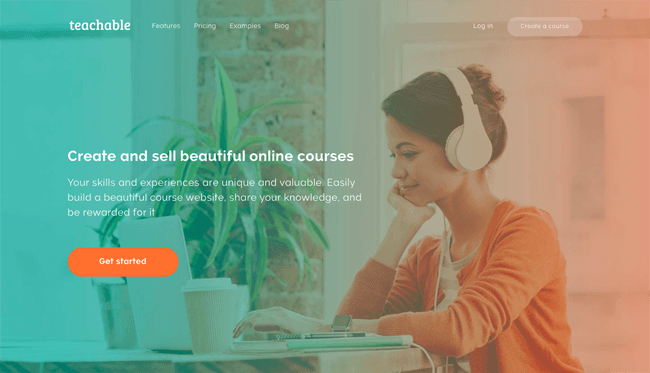 Teachable is a cloud-based Online Course Platform for producing rich teaching websites and online multimedia lectures. It lets you easily build a beautiful course website, share your knowledge, and be rewarded for it.
Over 124,000+ instructors are using Teachable to share their knowledge. Teachable is easy to create an online course with our powerful yet simple all-in-one platform.
With just a few clicks, you'll get a fully functioning school with learning management, payment gateways, and sales & marketing tools. Take your content to the next level by packaging it in a beautiful, professional, and fully personalized online school.
Teachable offers free trail and different options. They have a free plan $0/month plus $1+10% transaction fee for paid course sales.Their paid plans start at $39 a month plus 5% transaction fee for paid course sales up to $299 a month for high volume.
Features:
Course creation
Content import
Drag-and-drop website builder
Course page editor
Customizable domain
Multi-language
Quiz management
Discussion forums
Feedback collection
Student list segmentation
Coupon creation & management
Advanced pricing options
Affiliate marketing
Sales page templates
Payment processing
Reporting & analytics
Student & revenue dashboard
Multiple instructor support
Student enrollments
Refund processing
LearnWorlds
LearnWorlds is a powerful, easy-to-use and reliable training solution for individuals and enterprises. A fully customizable, white-label solution to train employees and associates, educate customers, or sell online courses to a wide audience.
This Online Course Platform lets you boost usage, satisfaction and retention for professional and compliance training, continuing education, and employee/customer onboarding. Create and sell online courses, all-in-one.
It has an intuitive drag and drop block-based builder. Choose between hundreds of templates and create high-converting landing pages. It integrates with Zapier, Google Analytics, Fomo, and more.
Their paid plans start at $24 a month and it offers a free trial.
Features:
Create, Market, and Sell Online Courses
White-label Solution (Branding and Custom Domain)
Onboard Employees
Internal/External Training
Community and Social Learning
Mobile Learning
SCORM Compliance
Synchronous Learning
Video Conferencing
eCommerce
Gamification
Academic (Education)
Asynchronous Learning
Blended Learning
Built-in Course Authoring
Corporate (Business)
eLearning Companies
Learning Portal
Built-In Authoring Tool
Role Assignment
And more
Thinkific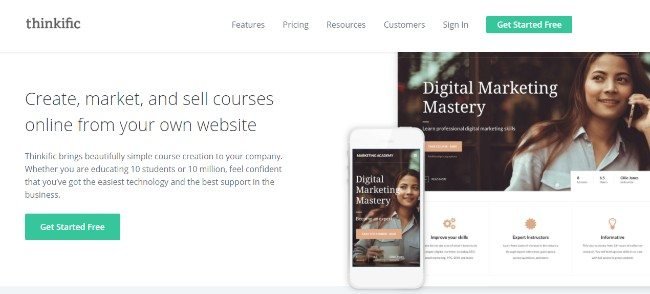 Thinkific is a powerful platform makes it easy to share your knowledge, grow your audience, and scale your business.
You can easily upload videos, build quizzes, and organize all your learning content with our drag and drop builder. Set pricing, schedule lessons, and automate your content to curate a learning experience your students will love.
Easily customize 100's of features, so you can build your perfect course business or membership site without any tech stress.
Automatic onboarding, student messaging, completion certificates, and more ensure your students get a world-class education every time so you're free to tackle your big picture goals.
Thinkific has offer a free plan and free trial and its paid plans are ranging from $49, $79, $399, and Thinkific Plus for larger entities.
Features:
Content Import / Export
Course Publishing
Instructor-Led Courses
Interactive Content
PowerPoint Conversion
Self-Paced Courses
Template Management
Test / Quiz Creation
Video Management
Built-In Authoring Tool
Course backup Options
Assignments Engine
Automated Enrollment
Custom reports generator
Email notification settings
Scheduling LIVE events
Gradebook
And more
LearnDash
LearnDash helps you access the latest eLearning industry trends for creating robust learning experiences. It is light, flexible, most trusted WordPress LMS. Easily create & sell courses, deliver quizzes, award certificates, manage users, download reports.
LearnDash LMS comes with a drag and drop online course builder. You can simply create courses with lessons, videos, quizzes, and more.
LearnDash comes with drip feed content function, so each course can be scheduled according to the author's preferences.
LearnDash offers multi-tier courses, drip-feed content, lesson timers, flexible prerequisites, forums, certificates, badges, and more.
The pricing for LearnDash starts at $159.00 per year. LearnDash has 3 different plans: Basic, Plus and Pro. There is no a free plan.
Features:
eCommerce
Gamification
Academic (Education)
Asynchronous Learning
Blended Learning
Built-in Course Authoring
Corporate (Business)
eLearning Companies
Learning Portal
Mobile Learning
SCORM Compliance
Synchronous Learning
Podia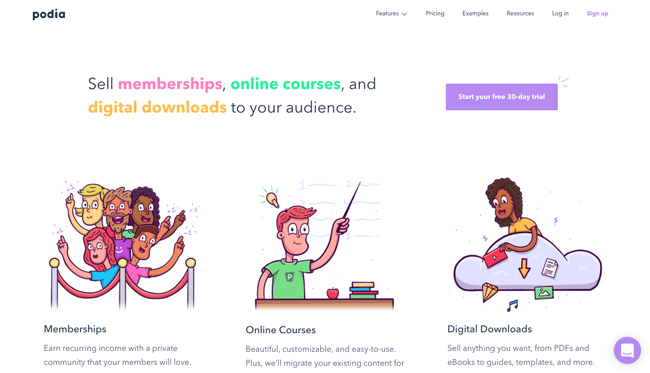 Podia is an Online Course Platform that allows you to sell online courses, memberships, and digital downloads to your students.
Handle everything from content creation to sending newsletters to your audience to securely processing payments, all on one simple platform.
Podia offers a FREE migration from your current platform. Podia offers a robust and stable LMS that would provided a bulk of the features, with easier course implementation, and without any of the burden of plugins and compromise of speed.
Podia platform provides a 30-day free trial. No credit card required. Their paid plan Mover starts at $39/month, while Shaker package, costs $79/month.
Features:
eCommerce
Content Import / Export
Instructor-Led Courses
Self-Paced Courses
Learner Portal
Course Tracking
Integrated membership site
Unlimited everything
Template Management
Course Management
Compliance Tracking
Mobile Learning
Course Publishing
Free migration
Email marketing campaign
Video Management
No transaction fees
Udemy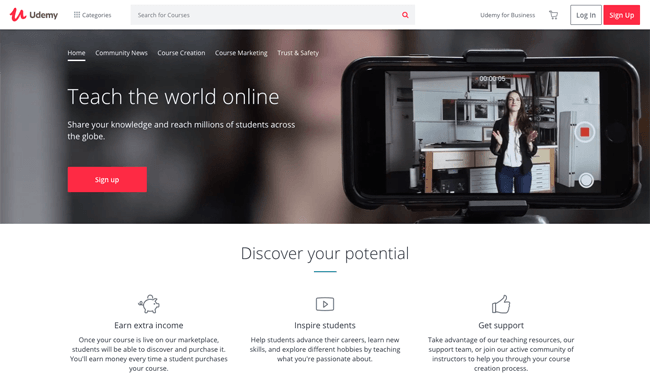 Udemy is an online learning environment, where students can learn new skills and expert instructors can create and share paid courses to help students improve their skills. 
Udemy is offering people everywhere the opportunity to advance their careers, change professions, develop their personal passions or simply learn something new.
One of Udemy's outstanding features is its course marketing functionality that allows instructors to promote their courses and market their personal brand to students and the right audience. 
Udemy provides a wide collection of 2,500+ of Udemy's top-rated courses taught by the world's leading experts. In addition to a curated content collection, organizations can also host and distribute their own proprietary content on Udemy.
When you create a course on Udemy, you have to price it according to their pricing – between $19.99, and the maximum, $199.99. Udemy charges between 3% to 75% of your revenue based on how the user came to the site.
Features:
Course Marketing
Retargeting Ads
Ad Hoc Email Campaigns
Action-Based Email Campaigns
Search and Discovery
External Partnership Promotions
Earn Extra Income
Course Quality Checklist
Assignments
Coupons and Discounts
Training Videos
Course Catalog
Teach Hub
SkillShare is a learning community for creators. Enroll in classes and complete projects that unlock your creativity.
Professionals who are using the platform as instructors can teach skills by creating and publishing a class. Skillshare helps professionals, creators, and entrepreneurs earn money.
Skillshare Online Course Platform offers compensation for teachers, as students enroll to their classes and watch their video lessons. 
Currently, they offer more than 26,000 (being 2,000 free) courses available through their platform.
Skillshare offers free, premium, and team enterprise pricing plans. Their paid plans start at $12 a month or $8 a month if you subscribe annual.
Features:
Shared Learning Experience
Class Creation
Publishing Classes
Promoting Class
Building Channels
Compensation for Teachers
Offline viewing for Premium Students
Referral
Catalog of Premium Classes
High-Quality Learning Materials/Courses
Free Classes
Feeback
Group Classes
Networking
Learning by Support
AccessAlly
AccessAlly is a WordPress LMS and membership management plugin that deeply integrates with your marketing automation system or CRM. 
AccessAlly is the only WordPress plugin for tag-based automation that helps to sell courses and delivers an amazing learning experience.
The plugin helps you with all the nesseseties to create a membership and course infrastructure to generating users through an affiliate system for managing payments with the help of popular payment processors.
The price starts at $99.00 per month. They do not have a free version and does not offer a free trial.
Features:
Gamification
Asynchronous Learning
Mobile Learning
eCommerce
Corporate/Business
Blended Learning
Learner Portal
Academy of Mine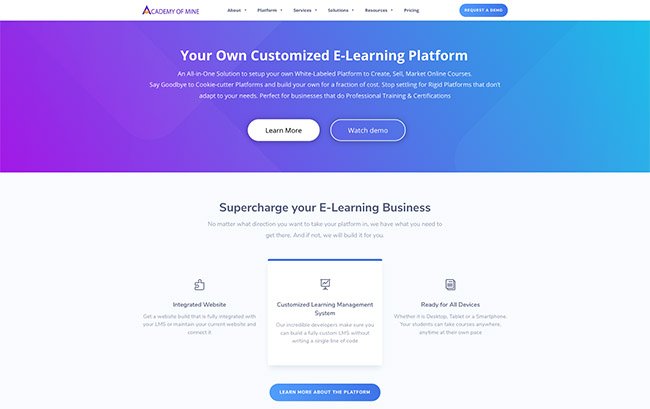 Academy of Mine is an all-in-one Online Course Platform that empowers you to create, sell and market your courses in professional training, continuing education, and certification. 
Their API allows you to integrate with the external software. Get a website build that is fully integrated with your LMS or maintain your current website and connect it.
Build courses that include text, video, audio, SCORM, PDF, livestreaming, quizzes, and much more.
Control the pace at which students move through your course content with our drip and course locking functionality. Follow the progress of your students with a variety of reporting tools such as Gradebook, Activity, and more.
Academy Of Mine pricing starts at $499.00 per month. They have a free trial and no free version is available.
Features:
Academic/Education
Asynchronous Learning
Built-in Course Authoring
Corporate/Business
Gamification
Learner Portal
Mobile Learning
SCORM Compliance
Synchronous Learning
Video Conferencing
eCommerce
eLearning Companies
For more great apps and tools that can save you money, and optimize your business and finances check some of our other posts in the Resources section.