Trading commissions were expensive years ago but today you have access to so many investment apps and which one of them can be one of your best investing apps.
Today trading can be extremely easy with using any of the investment apps available. You have direct access from your smartphone to enormous information about the stocks.
There are so many investment apps and platforms out there that it can sometimes be overwhelming. How do you find which ones are the best investing apps?
Today, we will be looking at best investing apps for 2020.
Best Investing Apps for 2020
Fidelity
Fidelity is established in Boston in 1946. As of 2014 is the fourth largest the assets under management of $2.4 trillion. Fidelity began offering investment management to investors in 1989 when it launched its portfolio advisory services division.
Fidelity provides enormous amounts of data on their website. Free of charge are available analysts for stock reports from third party. Fidelity Investments is great for people looking for one-stop-shop banking and investing service. 
Fidelity offers integration with Apple Watch, where you can view market reports, receive push notifications for investment opportunities and check domestic and international markets in real-time.
Only wealth management clients get a dedicated financial advisor. Minimum Initial Investment is zero, but you'll need money in the account to begin trading. Mutual funds typically require a minimum of $2,500.
| | |
| --- | --- |
| Minimum Investment | $100 |
| Commission | $0 for stocks, ETFs, options |
| Monthly Fees | $0 |
| Account Type | Taxable, IRA, HSA, 401k, Trust |
| Promotions | None |
Fidelity Managed Investment Options:
Fidelity Go, Fidelity's robo-advisor option
Fidelity Portfolio Advisory Service
Fidelity Separately Managed Accounts
Fidelity Personalized Portfolios
Fidelity Wealth Management Advisory
Pros
Solid research tools
US and international stocks
Great web trading platform
Cons
Margin rates higher than many other competing brokerages
No access to futures trading
High fees for buying a non-Fidelity mutual fund
TD Ameritrade
TD Ameritrade is one of the biggest US-based stockbrokers, it was founded in 1978. There is no minimum investment requirement.
TD Ameritrade's trading fees are low and it has one of the best desktop trading platforms.TD Ameritrade reaches investors from beginners to experienced traders with its services and investment products.
TD Ameritrade currently offers trading in fixed-income securities, equities, stock IPO's, warrants, option contracts, currencies, including options on and bitcoin futures), ETF's, closed-end funds, and mutual funds.
Their well-equipped desktop trading platform is perfect for investors and traders looking for solid research.
| | |
| --- | --- |
| Minimum Investment | $100 |
| Commission | $0 for stocks, ETFs, options |
| Monthly Fees | $0 |
| Account Type | Taxable, IRA, HSA, 401k, Trust |
| Promotions | Up to $600 |
Pros
No commissions on stocks, ETFs, and options trades
Free research and analytics tools
High-quality trading platform for mobile
Great customer support
Access to most investment products
Cons
Pushes you to get a live broker for an additional cost
High short-term fees for ETFs
High margin interest rates
Robinhood
Robinhood launched in 2013, as one of the first commission-free trading apps and it gives you more ways to make your money work harder. Currently, the platforms is used by over 10 million users and is valued at $7.6 billion.
Using Robinhood you can make unlimited commission-free trades in stocks, ETFs, as well as buy and sell cryptocurrencies with Robinhood Crypto, and options with Robinhood Financial. As one of the pioneers in commission-free trading Robinhood is one of our top choices for best investing apps.
You can build a Balanced Portfolio by customizing your portfolio with pieces of different companies and funds to help reduce risk. Users who have tried the platform have started with only $100 or less
There is no minimum deposit or maintenance fee. They are registered with the SEC to operate in all 50 states and use Apex Clearing Corporation to clear trades.
| | |
| --- | --- |
| Minimum Investment | $0 |
| Commission | $0 for stocks, ETFs, options, crypto |
| Monthly Fees | $0 |
| Account Type | Taxable |
| Promotions | None |
Pros
Commission-free trades on stocks, options, and ETFs
No account minimum
Easy to use interface
Access to popular cryptocurrencies
Cons
Limited customer support
Lack of investment types — no mutual funds, retirement accounts, or bonds
Vanguard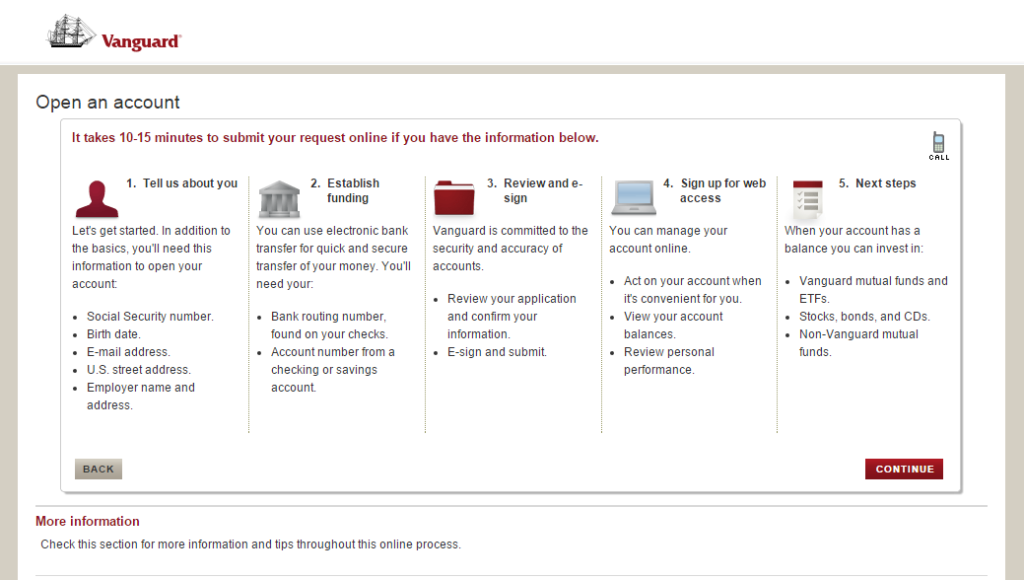 Vanguard is a client-owned brokerage firm that provides some unique investment services. Vanguard had the lowest expense ratios on its ETFs and mutual funds.
Vanguard is a low-cost broker, with its low expense ratios on mutual funds and ETFs. The broker does offer some actively-managed funds.
The mobile app is sleek and retains all functionality of the desktop platform. Vanguard provides excellent value to passive investors to grow their money.
Vanguard Investment Advisor charges an annual management fee that starts at 0.05% and ranges up to 0.3%.
| | |
| --- | --- |
| Minimum Investment | $100 |
| Commission | $0 for stocks, ETFs, options |
| Monthly Fees | $0 |
| Account Type | Taxable, IRA, 401k, and More |
| Promotions | None |
Pros
Inexpensive ETFs and mutual funds
Strong stock research selections
Access to Vanguard Funds
Broad selection of account types.
Cons
No futures or forex trading
Not ideal for day traders
10 technical indicators available for charts
No Tax-Loss Harvesting
Limited investment options.
M1 Finance
M1 Finance is a leading FinTech company that offers a complete range of financial services. You can have a complete control over the investment process in your portfolio with M1 Finance. The free investing app with portfolio management make it a great pick for our list of best investing apps.
Their investment app was developed to make things easier for you and is considered as one of the best investing apps. Their online brokerage service mixed with robo-advising automate the process based on your personal financial goals.
The app is letting you create and customize your own portfolio and then the automated service will manage your account.
One thing to mention is that the app offers limited investing advice and planning, and it is less personalized. If that's what you are looking for then you'd probably be better off with a robo-advisor like Wealthfront, Wealthsimple, or Betterment.
There are no commission or management fees.
| | |
| --- | --- |
| Minimum Investment | $100 |
| Commission | $0 |
| Monthly Fees | $0 |
| Account Type | Taxable, IRA |
| Promotions | None |
Pros
$0 Minimum investment requirement
$0 Management fee
Uses fractional shares
Low cost loans available
High yield cash management available
Cons
Limited investment options
No tax-loss harvesting
No access to human financial advisors
No risk quiz available
Not beginner-friendly
E-Trade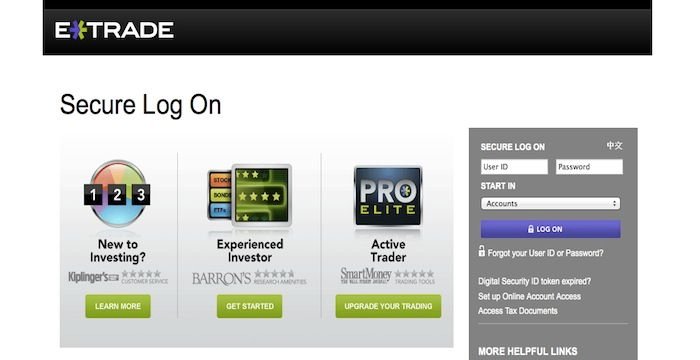 E-Trade is our next pick for best investing apps and it is one of the first online brokerages in the United States founded back in 1982. Today more than $65 billion in assets under the company's management.
There are fees for specific types of accounts and features. E-Trade is easy to use, offers lots of research. If you have more than 1,300 no-load mutual funds there are no transaction fees.
It offers asset classes from Stocks, ETFs, mutual funds, bonds to options, futures, FDIC-insured savings. This platforms that help customers with professional guidance and is one of the best trading platforms.
In February 2020, Morgan Stanley acquired E-trade.
Traders who are looking for no minimum investment requirement and plenty of fee-free funds will find E*TRADE perfect for their needs. E*Trade offers customer service 24/7 and human chat service.
| | |
| --- | --- |
| Minimum Investment | $0 |
| Commission | $0 |
| Monthly Fees | vary |
| Account Type | Traditional IRA, Roth IRA, Taxable, Custodial, Solo |
| Promotions | none |
Pros
No commissions for stocks and ETFs
For futures traders, E*Trade provides a mobile futures ladder tool
Streaming strategy options chains is a great tool to make smart trades
Assess your risk with performance tools that let you test your portfolio or just a single asset
Wide range of tradable assets
Exceptional customer service
Great research tools
Cons
Some features are not available in the regular mobile app
Slow account verification
Fees slightly higher with certain investment products
Higher margin rates
Does not integrate with your bank
Limited currency trading
Stockpile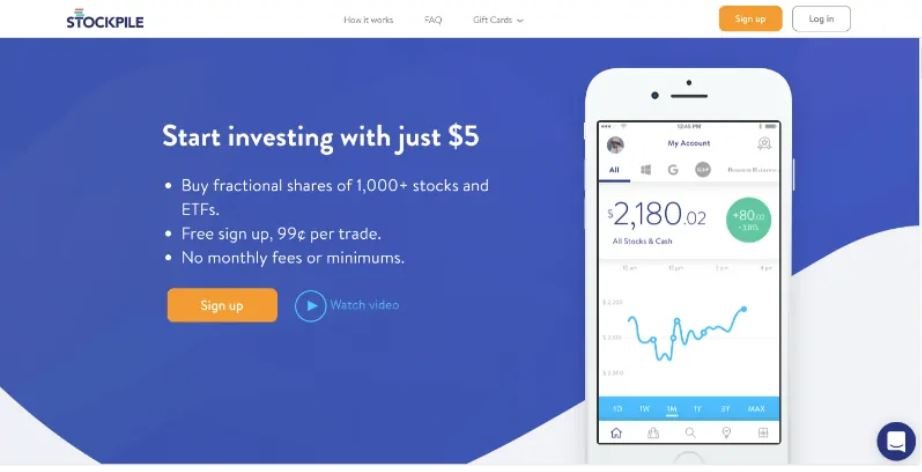 Stockpile is a new platform that allows you to buy fractional shares of individual stocks for less than a dollar. In 2012 with Securities and Exchange Commission was registered Stockpile. Stockpile brokerage accounts are insured up to $500,000. 
Stockpile allows you to purchase a stock gift card that can be used for the purchase of both stocks and exchange-traded funds (ETFs) instead of buying stocks directly.
Stockpile is one of the best investing apps for beginners, children, and anybody wanting to get into investing in stocks as well as anybody that doesn't have a lot of money to use for investing.
The number of stocks available is limited. Stockpile includes more than 1000 stocks, ADRs, and ETFs, including every stock in the S&P 500.
You can open an account for free, and to maintain or close one there are no fees as well.
| | |
| --- | --- |
| Minimum Investment | $0 |
| Commission | $0.99 per trade |
| Monthly Fees | 3% for credit cards |
| Account Type | Taxable, Custodial |
| Promotions | none |
Pros
No Minimum
Easy to use platform
Low Trading Fees
No Annual Fees
Fractional Shares
Cons
Limited Account Selection
Limited Investment Selection
No Real-Time Trading
U.S. Residents Only
Stash
Stash is another app in our best investing apps list and it is a great way to automate your investing using small amounts of money regularly. It has attracted over 3.5 million users and it has a low monthly price of $1 maintenance fees.
Stash app is a cost-effective platform focused on value-based millennial investing. It is a great way to automate your investing using small amounts of money regularly.
Stash has moved into the retirement-savings space by now offering Roth IRA accounts with a minimum of $15.
Stash allows you to buy a portion of one share even as low as $5.
Stash app offers value-based categories of investments and it is one of the best investment platforms for beginners. Among other startups including Acorns, Robinhood, Slash is lowering the barrier of entry for investing.
| | |
| --- | --- |
| Minimum Investment | $0 |
| Commission | $0 |
| Monthly Fees | $1 – $9 |
| Account Type | Traditional IRA, Roth IRA, Taxable |
| Promotions | Up to $560 |
Pros
No account minimum
Fantastic automated guidance and educational offerings
Fractional shares, round-up investing, automated investing
Valued-based offerings for socially conscious investors
Cons
Lack of investment management and human guidance
No tax-loss harvesting
Fee ratio is relatively high when investing small amounts
Acorns
Acorns let you take control with all-in-one investment, retirement, checking and more. Acorns is California-based company employs about 100+ people.
For every purchase you make Acorns allow you to round to the nearest dollar and investing the difference. This is a great way to invest in your future and makes a great part of our best investing apps.
When you shop with Acorns Found Money partners, you can use the Found money option, wherein the 300+ top brands automatically invest in your Acorns account when you shop. 
Acorns is a micro-savings app similar to Digit and Qapital,
Acorns commission is $1 a month for accounts under $5,000. Students with a valid .edu email address can open an Acorns Core account for free.
| | |
| --- | --- |
| Minimum Investment | $0 |
| Commission | $0 |
| Monthly Fees | $1 to $3 |
| Account Type | Taxable, IRA |
| Promotions | $10 Cash Bonus |
Pros
Easy-to-use app with very little investment costs
Free management available for college students
Robo-advisor model made for beginners with no investment experience
$0 account minimum
Automatically invests spare change to grow your savings
Cons
Account fees ranging from $1 to $3 monthly
Small investment portfolio based on automated mutual funds
Betterment
Betterment is an online, automated investment platform, or a robo-advisor, based in New York City. It takes sophisticated investing strategies and makes them better with personalized guidance and tax-smart technology.
The top banking industry standards for security, including 256-bit SSL encryption of data are used by Betterment.
It has grown to be one of the largest robo-advisors on the market today with over $16 billion in assets under management.
People who want stable long-term investments are best suited for Betterment.
Betterment offers low fees and good returns and it uses exchange-traded funds (ETFs) and automation to manage your portfolio.
| | |
| --- | --- |
| Minimum Investment | $0 |
| Commission | $0 |
| Monthly Fees | 0.25% or 0.40% |
| Account Type | IRA, Roth, SEP, Trust, Taxable |
| Promotions | up to 1 year free |
Pros
No minimum deposit
No transfer or account closing fees
Exceptional customer service
Set up different investing goals
Benefit from tax optimization
Friendly goal specific investing
Retirement Planning Suite.
User-friendly app and website
Cons
Closing an account requires snail mail
Might be too simple for experienced investors
Only Available in US
Besides significant cost savings, another great advantage of executing your own transactions is that you can eliminate stockbrokers which save you time and energy.
Saving you time, help you grow and get to the next level are just a few of the benefits when using the right apps for small business.
For more great apps that can save you money and optimize your business and finances check some of our other posts in the Apps section.