Podcast hosting platform hosts audio content files for your podcast and your RSS feed. Using hosting platforms you can upload your audio files, show notes, and other details to help you generate your feed.
Crucial for your podcast is choosing a reliable podcasting hosting platform, because it will help you manage your podcast files easier while grow your audience faster.
What is Podcast Hosting?
If you want the viewer/listener to be able to access your content at any time, after the podcast data including media files is stored somewhere and then needs to be made available via the internet.
Top 10 Podcast Hosting
BuzzSprout
BuzzSprout is a podcast hosting platform founded in 2009. Over 100,000 people start their own podcast using Buzzsprout. It is the easiest way to track your podcast, host, and promote it.
Buzzsprout is the easiest way to promote, and track your podcast and host using their podcasting software. Each of your podcasts are automatically optimized by Buzzsprout for you.
You can easily list your podcast in Spotify, Apple Podcasts, Google Podcasts, and more and it helps you reach millions of potential listeners.
Up to 2 hours of audio with no ads is offered from their free plan, but the episodes are deleted after 90 days.
If you need more then 2 hours free you can subscribe to their paid plans starting at $12 a month up to $24 a month for 12 hours upload each month.
Features:
Great social media features
Easy upload and hosting
User-friendly
Get proper stats
Have a WordPress plugin
Affordable pricing
Great storage limit
Pros
Free Trial
Friendly customer service
Easy to use even for a beginner
Reasonable price
Cons
Support only includes emails
Lack of features
Captivate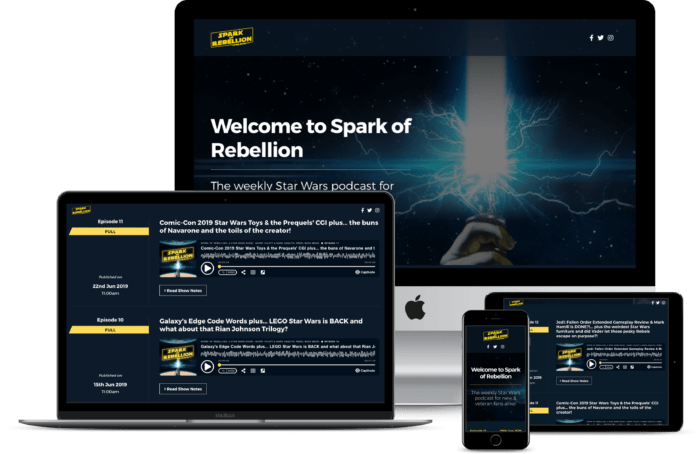 With Captivate you can grow your podcast and is focused on helping your show succeed. Users can create multiple podcasts using this podcast platform.
The platform is infinitely changeable to perfectly represent your audio brand and auto-configured based on your podcast cover art. Each layout has been crafted to work on any device, from laptop to phone, and it is designed to work beautifully on every device.
During the week Captivate offers 24/7 support and dedicated weekend hours. Captivate helps you to focus on the expansion of your audio influence and audience growth. Using their simple WordPress plugin, Captivate Sync, you can synchronize instantly with your website.
They offer a free trial and the paid plans start at $19 a month and based on your downloads can go up to $99 a month.
Features:
Unlimited podcasts
7 Day Free Plan
Advanced Analytics
Unlimited Podcasts
Import Your Show, For Free
Stunning Podcast Player
Calls to Action, Built-In
Automatic Podcast Website
Unlimited Team Members
Analytics, Anywhere
Thoughtful Podcast Marketing
Pros
Free Trial
Friendly customer service
Easy to use even for a beginner
Reasonable price
Cons
Support only includes emails
Lack of features
PodBean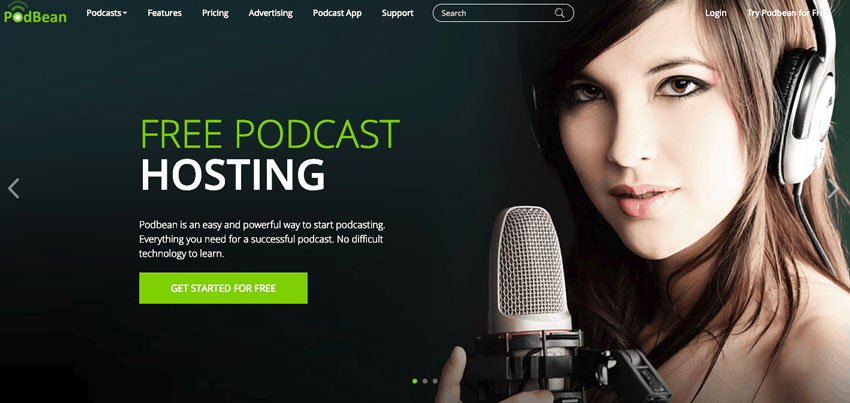 PodBean offers new podcasters great plans with reasonable prices. They offer a free app available for Android and iOS devices.
Podbean is powerful tool and one of the easiest way to start a podcast. Everything you need for a
successful podcast. No difficult technology to learn.
All the features you need for starting a podcast are included in this podcast hosting platform, as well as promoting your podcast, and monetizing your podcast. With Podbean podcast hosting you can easily publish your podcast to Google Podcasts, Apple Podcasts, Spotify, the Podbean Podcast App, and more. 
Their paid plans start at $9 a month up to $99 a month. They have a free plan as well that is limit to 5 hours total.
Features:
Free subdomain of your choice
Syndicate your podcast on multiple platforms
Promote episodes on social media
Easy embedding
Monetization
Analytics and Statistics
Pros
User-friendly interface
Easy publication and integrating to your social media sites
Great mobile app
Plans for all types of podcasters
Cons
Limited security features
No uptime guarantee
Expensive podcast hosting
No phone support
Transistor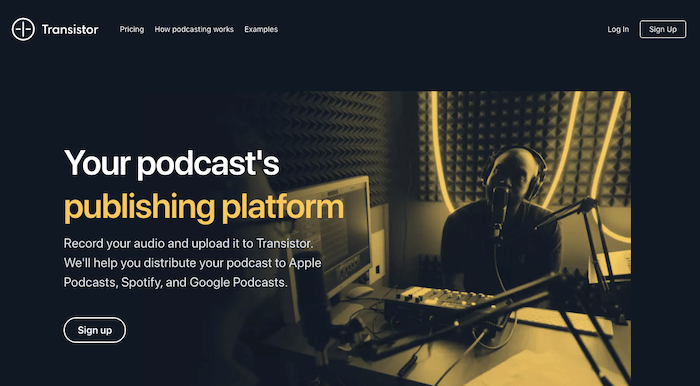 Transistor podcast hosting site has a comprehensive tool to build and grow your podcast. Transistor is trusted by businesses, professional podcasters and creatives, who use their audio hosting and analytics.
For one monthly price using the same account Transistor you can host unlimited shows. Your podcast can be embedded on your websites and blogs via Transistor's customizable players.
You can invite individual users to work on each show or create multiple podcasts with the help of Transistor. It provides you an opportunity to popularize your show to numerous podcast stores including Spotify, Pocket Casts, Overcast, Apple Podcasts, Google Play, Stitcher, Castro, and on social media.
They offer 14-day free trial and their paid plans start at $19 a month for 10,000 downloads per month up to $99 a month mostly based on downloads.
Features:
Create unlimited podcasts
Live customer support
Add and manage team members
Advanced analytics
Built-in podcast website
Pros
Host unlimited podcasts
Podcast Analytics
Focus on team management
Create Private Podcast for Members
Free Trial
Cons
Limited monthly downloads
No free plan
Can't remove player branding unless on Business plan
Simplecast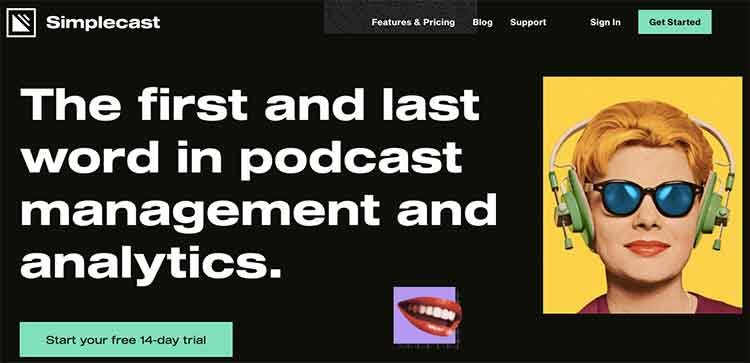 Simplecast is a modern independent podcast hosting and analytics platform. Simplecast remains the easiest way for podcasters to publish audio with one-click publishing.
Using Simplecast you'll have access to analytics, industry-leading publishing, sharing and distribution tools. Simplecast exists for the podcaster, giving shows of all shapes and sizes access to the same tools powering shows from some of the world's biggest brands.
If you want to embed a single episode or an entire show, it is easy with oEmbed-ready functionality, Add them effortless to site-builders like Squarespace or WordPress, blogs like Medium, and across social media. 
Simplecast offers unlimited uploads, unlimited storage space, social media sharing clips, listener analytics & reports, and a customizable themed.
Their paid plans start at $15 a month up to $85 a month
Features:
Unlimited storage & uploads
Distribution to everywhere your audience listens
Customizable show website with a custom domain
Manage multiple shows with one account
Web Player analytics
A secure (HTTPS) site and RSS feed
Pros
Streamlined UI for newcomers.
Unlimited storage and bandwidth.
Share podcasts as videos with Recast.
In-depth detailed analytics.
Cons
Advanced features only available on higher plans
Monthly downloads are capped
Audio quality restricted
Spreaker
Spreaker is a web and mobile platform that allows audio creators to upload, share, and record. Everything you need to create, distribute, and monetize your podcast you'll find in Spreaker.
With the Spreaker Studio app you can record your podcast on the go and have the advantage of using the more advanced editor on your computer. Spreaker Studio gives you complete control over your podcast voice volume.
A community of audio creators and listeners is available for anyone to participate in and interact within the platform. 
The free plan also includes 15 minutes of max live streaming and 5 hours of audio storage.
There are several plans available through Spreaker including one free and four paid plans. Their paid plans start at $5.99 a month for 100 Hours up to $49.99 a month for 1,500 Hours.
Features:
Unlimited storage space & uploads
Distribution to all platforms
Listener analytics and reports
Themed show website
Eight additional team members
Standard, mini, and show playlist player
Audience insights
Interactive location map down to cities & metro areas
Web player insights
Pros
Unlimited bandwidth including the free version
Analytics overview
Easy to use
Desktop and mobile apps
Cons
Monthly downloads are capped
Audio quality restricted
Statistics are limited by plan
Embed player is limited by plan
Fusebox
Fusebox builds a toolbox of powerful software to empower podcasters with dynamic ways of energizing their audiences to drive engagement and results. It is one of the top Podcasts plugin for WordPress.
With their Transcript plugin, you can seriously boost the engagement and SEO potential of your show notes like never before. You'll still need a podcast host, such as Buzzsprout or Libsyn.
There is no need to use any third-party tool to capture leads because FuseBox comes with an in-built email capture form. You can also easily integrate it with the top email marketing tools like Convertkit.
Fusebox has both free and pro pricing plans. FuseBox also has a free plan with limited features. Their paid plans start at $8 a month billed annually and they offer 60 Day Money Back Guarantee.
Features:
Full player, single-track player, and site-wide sticky player
Email Capture
Transcript plugin
Downloadable PDFs
Accessible design
Pros
Simple and easy to use plugin
Download & Social Sharing
Responsive & Mobile Friendly
Fast Loading Speed
Professional Customer Support
List Building Tool
Cons
No Live chat Support system
Only for WordPress users
Blubrry
Blubrry is a modern solution for communications, announcements, training, speakers, interviews, educators, exclusive or bonus content. Offering Simple, Standard and Enterprise plans, with mobile and desktop app options, Blubrry can assure your private podcasting needs are met.
Blubrry stands out mainly thanks to its nifty WordPress plugin called Powerpress. PowerPress is the No. 1 podcasting plugin available on WordPress.org. Their free plugin has key podcasting features such as iTunes compliant RSS feeds, subscribe tools including a subscribe sidebar widget and subscribe page template, in-page media players, podcast SEO tools and more!
Podcast Hosting by Blubrry is highly optimized for those using WordPress with the PowerPress plugin
Blubrry has no free option available. Their paid plans start at $12 a month up to $80 a month.
Features:
Includes a free WordPress site on all plans
Offers Subscribe by email option
Optimized for iTunes, Google Play and podcasting
Audio, video, audiobook, ePub, PDF
Pros
Professional Statistics
Integrates with WordPress
World-class CDN
Phone support in the US
Unlimited bandwidth
Great customer support
In-depth IAB-certified analytics
Cons
Interface may be complex for beginners
No free plan available
Pricing options on the expensive end
Audioboom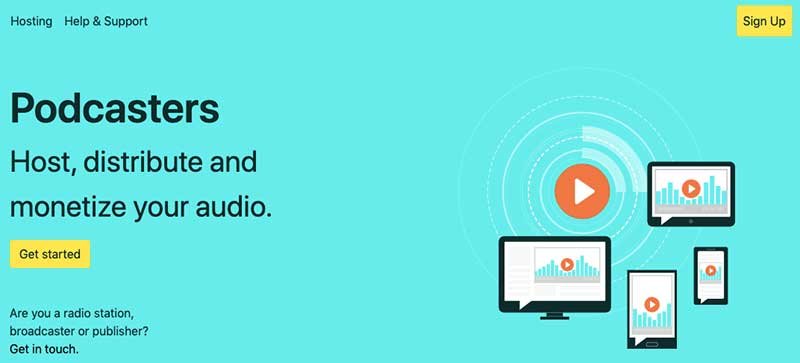 Audioboom is the the leading platform for hosting, distributing and monetizing podcasts for podcasters, advertisers and brands by combining technical support, production savvy and ad sales know-how into one user-friendly, economical experience.
They partnered with Apple Podcasts, CastBox, Deezer, Google Podcasts, iHeart, RadioPublic, Spotify, Stitcher and TuneIn.
You can get detailed insights on your podcast's performance and learn about your listeners. Invite others to collaborate on your show and manage permissions.
If your podcast is getting more than 10k plays per episode they can help you monetize your content with dynamic ads and sponsorship.
Their paid plans start at $10 a month with unlimited episodes per month up to 10,000 plays per month.
Features:
Publish up to 5 episodes per month
Up to 10,000 plays per month
Distribution via Apple Podcasts, iHeartRadio, Spotify, GooglePlay and Stitcher
Advanced analytics
Embeddable Players for your website and social media integration
Pros
Affordable pricing.
Easy importing and uploading of episodes.
Media sharing
Embedded player
Advanced analytics
Great advertising & monetizing opportunities
Cons
Limited plays per month
Base price limits users to 5 episodes per month
Castos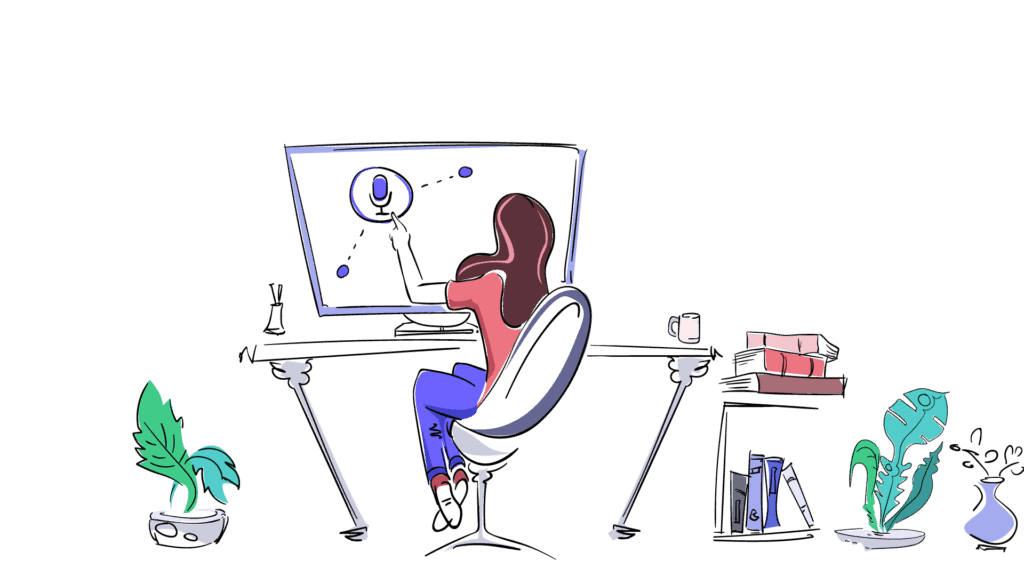 Castos is a podcast hosting, editing, and publishing service. Promote with custom audiograms, automatically publish episodes to YouTube, and use advanced analytics to reach new ears with Castos.
Pay a low, flat fee per audio minute to transcribe your podcast from the dashboard.
Make it easy for your audience to subscribe, search episodes, and connect with you on social media using the Castos's feature that lets you create a responsive landing page for every podcast.
Castos has a 14-day free trial. Their paid plans start at $19 a month up to $99 a month.
Features:
Manage multiple podcasts
Supports audio and video podcasting
Customizable media player
Shortcodes and widgets to add episodes, playlists, and archives on your WordPress site
YouTube republishing
Pros
Auto-publish each episode to your YouTube channel
Transcription service
Facebook support group
Advanced analytics
Limitless bandwidth and storage
Premium podcasting.
Cons
Requires WordPress website
Not all podcast hostings offer in their basic, or starter plans, the option of monetizing your podcast.
You'll find those podcast hosts are different than each other besides the main features like pricing, storage space with helpful features like easy-to-build podcast websites, social media integration, post scheduling and in-depth statistics.
For more great apps and tools that can save you money, and optimize your business and finances check some of our other posts in the Resources section.