In today's modern world blogs and social media go together. Social media tools that can manage your social media accounts or your blog are in increased demand.
The way we use marketing to promote various offers or our businesses has undoubtedly changed with the social media. 
In this article, we'll show you the best social media tools that you can use to boost your social media campaigns.
Top 9 Social Media Tools
Hootsuite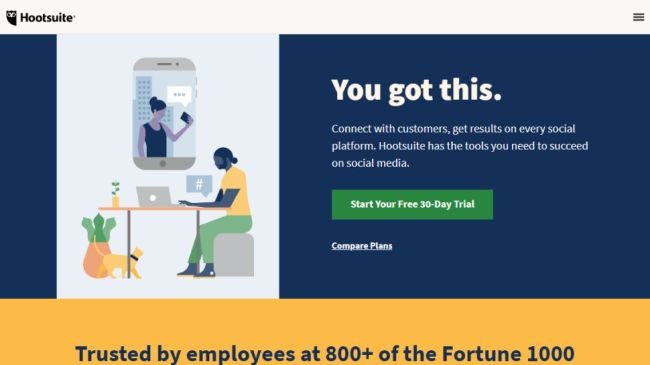 Hootsuite allows you to schedule your posts and manage multiple accounts across different platforms.
You can monitor conversations relevant to your business, your products and your industry, from within Hootsuite's dashboard. Based on hashtags, keywords, locations, and even specific users, you can monitor what people are saying.
Based on your own experience it helps you optimize what, when and how to publish. You can connect up to 3 social media accounts using the free version. 
From Hootsuite you are limited to only posting onto your company page, and not allowed to private profile. 
There are four plans offered by Hootsuite, starting at $29 per month.
Sprout Social
Sprout Social is using publishing, effective engagement, analytics and listening and tools to extract real business value out of social media through.
Sprout Social helps you organize your social media and review management in one platform to streamline engagement, gain valuable feedback and improve your online presence.
Boosting the engagement of your brand is the main Its main objective of Sprout Social. But unlike other social networking tools, it also organizes comments and interactions by section and social network 
Try Sprout Free For 30 Days or join their paid plans starting at $99 per user per month.
BuzzSumo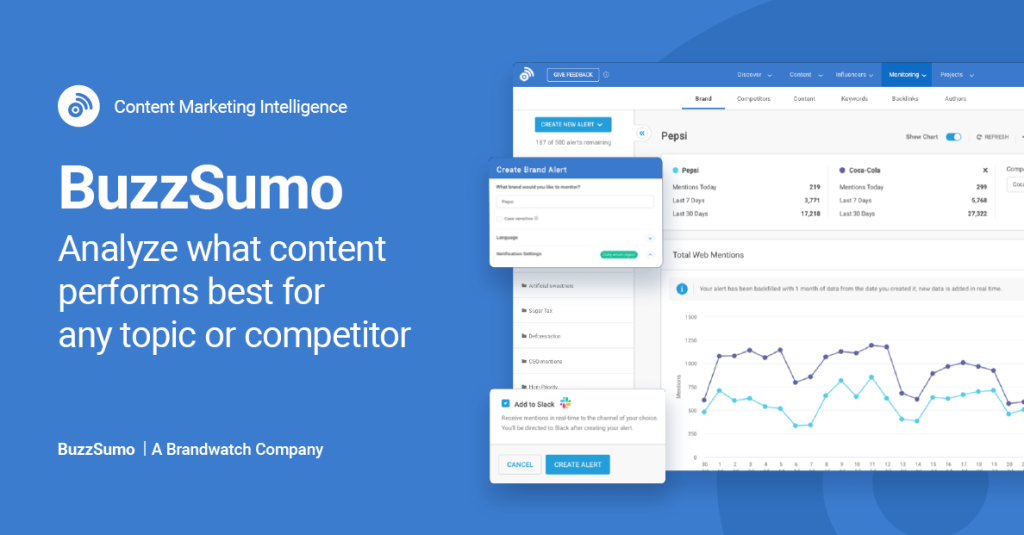 BuzzSumo is a platform for social media analytics and works as a data curating tool for content marketers and one of the top analytics social media tools.
BuzzSumo is created for competition analysis, content research, outreach research and backlinking. It was instrumental in developing my long-term content strategy and adjusting it on the go.
It is a great tool to find top influencers to promote your business and products. When a target keyword reaches a certain threshold BuzzSumo can be customized to send you alerts. 
BuzzSumo offers a free trial and the pricing starts at $79.00 per month. There is a free version.
Buffer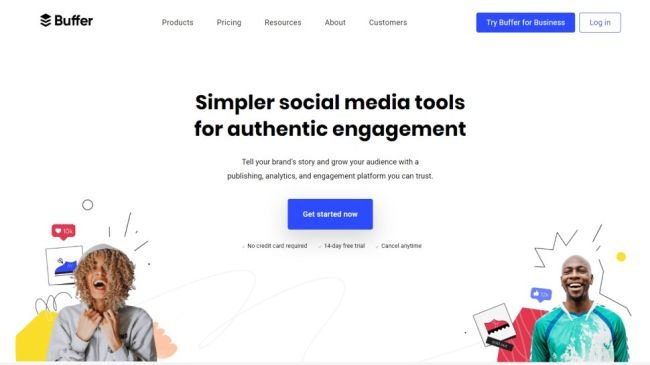 Buffer is a great social media tool if you want to share content from your browser with your social followers and supports Twitter, Facebook, Instagram, and Pinterest.
Buffer software has powerful user interface and it is simple and easy to use. It is a social media management platform for small to midsize businesses that helps users publish content, engage clients and analyze their social media performance.
The app makes it easier to create and schedule posts and it has the ability to connect to all social media accounts.
Buffer pricing starts at $15.00 per month. There is a free version. Buffer offers a free trial.
Zoho Social
Zoho Social is a smart social media tool that helps businesses grow their presence on the social media by reaching the right audience at the right time.
It is a cloud-based social media management platform that allows users to manage multiple social channels, schedules posts and monitor keywords.
It helps small to large organizations to grow the social media presence of their brand. Zoho Social is created by Zoho.com and it comes in a suite with more than 40+ products that are using worldwide by over 30+ minion users.
It works great with Facebook, Twitter, LinkedIn and Instagram and can also be integrated with ZOHO CRM.
Zoho Social pricing starts at $15.00 per month.There is a free version. Zoho Social offers a free trial.
Google Alerts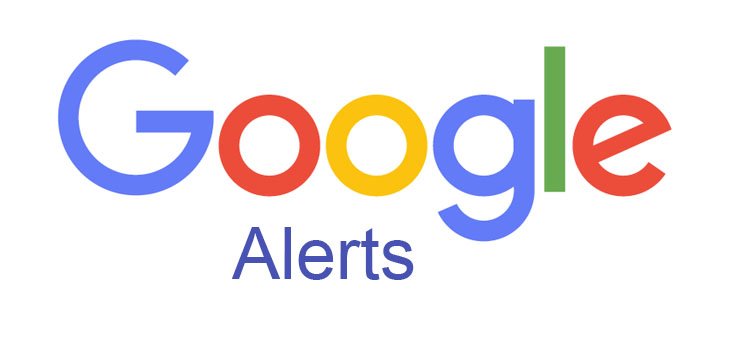 Using Google Alerts you can monitor for mentions of your company, your competitors, the entire web or other relevant topics. 
Google Alerts can be configured for specific terms as well as sites and alerts on a daily, weekly or monthly basis can be scheduled by users.
It's also very user-friendly and easy to create alerts that help you keep track of trends in your industry. You'll need to create a Google account, if you do not already have one.
Notifications have major delays, and the time from when a mention appears on the web to actually getting a notification is way too long to react in real-time.
Google Alerts misses out on a lot of results, and it doesn't collect results from social media, and that's where the majority of online conversations happen these days.
There is a free version and Google Alerts does not offer a free trial.
Brandwatch
Brandwatch is headquartered in Brighton, England and it is a digital consumer intelligence company. Brandwatch sells five different products: Consumer Research, Audiences, Vizia, Qriously, and BuzzSumo social media tools.
Brandwatch Consumer Research was created after the merger of Brandwatch-Crimson Hexagon technology companies. 
It all comes bundled with a range of analytical features such as a number of mentions across different social media channels within specific time frames, sentiment analysis, or the influence score of the social media users.
Brandwatch is among the fastest-growing tech firms in the world and now works with customers, including one-third of the Fortune 100.
Brandwatch does not offer a free trial and do not have a free version. The pricing plans of Brandwatch starts at $0.01.
Buzzlogix
Buzzlogix is a simple and smart, all-in-one social media management, engagement and monitoring platform. You can get real insights for your brand or your products. 
It is a cloud-based social media listening and marketing solution for small, midsize and large enterprises. Buzzlogix can be integrate for free into applications by app developers.
As most of the other social media tools in our list, it gives you complete details and reports regarding your social media posts and campaigns.
Prices: $19.95 per month, $49.95 per month, $99.95 per month, and $399.95 per month.
Falcon Social
Falcon Social is a cloud-based social media marketing platform that helps social media marketers with social listening, customer engagement, content marketing, and audience management. Some of its social features include engage influencers, stay on top of popular topics, and monitor your brand.
The SaaS platform features a highly intuitive and collaborative UI. Using Falcon.io's various tools you can create, schedule, or manage content, and publish it. Falcon.io is one of the top leading social media management platforms in the world. 
Falcon also works great in a multilingual setting and it has the ability to monitor brand mentions, sentiments, and callouts across all social media platforms and the web in one convenient dashboard.
Prices: $1,000 per month, $1,750 per month, and enterprise pricing
Increasing numbers of Americans across all demographics are obtaining news from social media. According to statistics, millions of blog posts are being written right this very minute.
Sixty-three percent of both Twitter and Facebook users find news on these networks, according to a study conducted by the Knight Foundation and the Pew Research Center.
Check some of our other posts in the Resources section for more great tools and apps that can optimize your business and finances and save you money.