There are so many webinar solutions out and it is not easy to find the right webinar platform that suits your needs. In this post, we are sharing our top 12 picks for webinar software for 2020.
Top Webinar Software
1. EverWebinar
EverWebinar can be integrated with WebinarJam and it is one of the most popular webinar software.
What's cool about this integration is that you can record it with WebinarJam and then with the help of EverWebinar you can turn it into an automated webinar. So you can enjoy your vacation somewhere or just have your attention to the chat.
EverWebinar is focused on what's called sales pitch. Once you have the webinar recorded you can use it over and over again fully automated.
Smart webinar bot scheduling system lets you select specific days of the week and time zones based on what works best for your audience. You have the ability to set dynamic "Just-In-Time" webinars that start within minutes upon registration.
You have access to template library, where you can customize the contents as you desire: text copy, colors, images, your logo, add a video, etc. You can use two designs and in real time track which one brings more registrations into your event.
Features:
It is very easy-to-use
Integration with WebinarJam
Template pages need reworking
You can fake the number of attendees
Smart webinar bot shows offer at the time user choose the webinar
Ask a question option send it directly to your email
2. GoToWebinar
GoToWebinar has established itself as a professional and trusted solution for businesses especially corporates who only need live webinar hosting. GoToWebinar allows you not only to stream live webinars but once it's finished to send recordings to attendees.
LogMeIn company owns GoToWebinar and also own the GoToMeeting software. 
You have access to in-built webinar templates, which can personalize using your logo, images, and colors to establish brand identity, automated email reminders, customizable webinar invitations, automatic webinar recordings, in-built polls, and surveys,
Pricing starts at $49.00 per month, per user for up to 100 participants. There is no free version, but you have a free trial.
Features:
Full Services Attendee Registration
Host live webinars and share recordings with participants later on
Ability to send reminders to people about webinar events
HD Video Recording and video sharing feature
Analytics and reporting tool on the webinar performance
Custom landing page forms
Inviting people to attend your webinar by automated calls
Archived Recordings
Polls & Surveys
Ability to divide your audience into breakout rooms
3. Cisco WebEx
Over 100 million professionals use Webex video conferencing solution to collaborate with team members by documents, sharing files and screen sharing.
It is a cloud-based platform, and it offers great speed, and data security as well. You have calendar integration with Outlook, Google, Office 365 and more.
The webinars can be accessed via a recording at a later time and shared or send via email as email an MP4 recording file.
You can access Cisco Webex webinar software from a mobile device, a browser, or a video system. Using desktops, tablets, or even cell phones or laptops you can join conferences. There is a free version and free trial as well. Price starts at $13.50 per month, per user.
Features:
High-Quality Video/Audio
Lead generation and marketing tools like Salesforce
Registration tracking
Available add-ons for professional webinar planning & production
On-Demand Webcasting
Real-Time Chat and Private Chat
Cloud-based platform
Record & Playback Ability
4. Zoom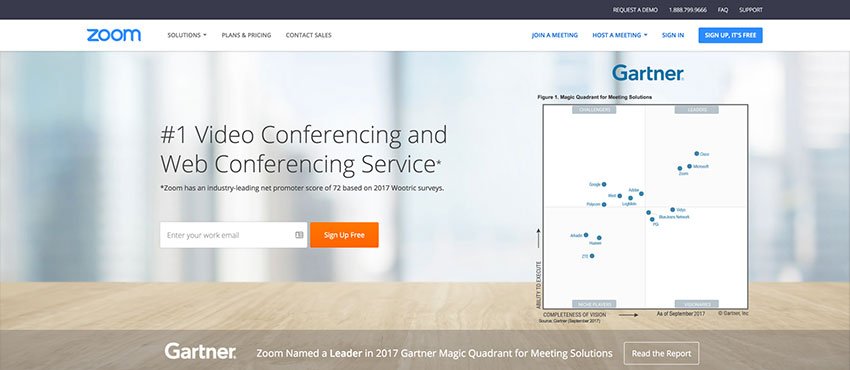 Zoom Video Webinars allows any size businesses to have online meetings. It is more popular as a general-purpose video conferencing tool but it has webinar solutions as well.
Zoom's features will meet most personal and small-business as well business needs. Their user-friendly interface makes it super easy to work with. Some of its features includes offers HD video and audio, screen sharing, desktop, and app sharing options.
Viewers can communicate during the event without any interruption by using private and public chats.
They offer a free plan for up to 100 participants on unlimited calls, but the calls has limitation of 40 minutes per call. Zoom has a different paid plans starting at $14.99 per month with cloud storage, reporting, recording and other features.
Features:
Desktop app or browser-based with screen sharing
Integration with Facebook Live and YouTube to broadcast your webinars
Recording to local and cloud storage
VOIP and video conferencing integration with telephone
Ask a question option, live chat and polls keeps the audience engaged
Strong AES 256-bit end-to-end encryption as well as SSL
Integration with Google Calendar, iCal or Microsoft Outlook
5. Livestorm
Livestorm is suitable for everyone, from startups to big enterprises. It has one of the most elegant interfaces for creating several types of videos.
Using this webinar software platform you have the ability to create specific webinar styles. With its modules and tools, you can set online courses, product demos, customer training, video podcasts and more
Livestorm has a free version that can be used for up to 20 minutes for webinars.
The webinar software can be integrated with a wide selection of apps, including Hubspot, Zapier, Salesforce, Microsoft Dynamics and Google Analytics.
The price starts at $99 per month per host for up to 100 attendees. If you want more attendees you can purchase additional, starting at $99 for minimum of 250 extra attendees.
Features:
It is very easy-to-use
Creating several types of videos
Analytics and reports
Integrates with thousands of other apps
Unlimited webinar recording storage
Powerful Landing pages
6. ClickMeeting
ClickMeeting is a browser-based webinar solution that can be suitable for self-employed to multinational enterprises. Insights about the audience of the upcoming or past webinars can be provided via an analytical tool.
It can be used only to host webinars. It includes a waiting room where you can present different information. One feature is it can be used to monetize webinar content using the platform's integration with PayPal to manage funds securely.
The price to use this webinar software starts at $25.00 per month.There is a free version and a free trial as well. The next tier which costs $35 a month gives you access to HD video and Facebook & YouTube Live services and includes four presenters.
Features:
It is very easy-to-use
Works inside YouTube and Facebook to enhance engagement
Interactive sessions with chat options
Social media sharing, on-demand webinars, and performance ratings
Monetize webinar content if activate paid webinars
HD video available for multiple presenters with the same account
7. Adobe Connect
Adobe Connect is backed by the popular company Adobe and it is a web-based conferencing webinar software solution for any-size companies. It can be used for webinars, online meetings, desktop sharing and training sessions.
One downside is the recordings should be converted to MP4 video before being viewed on mobile devices. It has a web-based and mobile apsps.
Adobe Connect includes features such as whiteboards with drawing tools, polls, chat, and a console for mixing video streams.
Adobe Connect offers a 30-day free trial to test out the product and then the price starts at $130 per month for 100 seats.
Features:
Templates to customize your virtual environments.
Integration with CRM software like Eloqua and Salesforce
VoIP meeting audio, or chose to join a telephone conference
Share content from Adobe Connect cloud-based content library
Use drawing tools to whiteboard or markup/annotate content
Participate in Chat, Polls, and Q&A
8. GetResponse
GetResponse is popular mostly with its email marketing platform. You'll be surprised how much more you can get from GetResponse if you expand to their marketing and webinar solutions.
You can produce a world-class online experience using GetResponse webinar software. Some of their marketing tools include autoresponders, list segmentation, automated email marketing, landing pages, and more.
A professionally designed gallery of free invitation templates lets you sent automated messages with your webinar details. Automatically follow-up with your audience by running automated campaigns.
GetResponse has a free 30-day trial after that the price starts at at $49 per month for up to 100 attendees. Their Basic plan doesn't include webinar features.
Features:
Customize your webinar URL
Generate leads with high‑converting landing pages
Sharing and chat options
Set up your own autoresponders
Provides detailed audience statistics with a built-in analytics tool
One-click Facebook Pixel integration
Up to 1,000 live attendees
9. Zoho Meeting
Zoho Meeting is a secure online video conferencing platform and webinar solution. The solution is suitable for personal use as well as large size organizations. It can be used for different applications such as hosting sales presentations, product launches, webinars, and online meetings.
The platform is completely browser-based, so you do not need to download any application. There are desktop plugin for Mac and Windows, iOS app, android app, as well as browser extensions for Google Chrome and Firefox.
Options for calendar integrations, polls, Q&A. You can also embed webinar registration into custom landing pages using embedded meeting widget. It has screen sharing capabilities, host secure meetings, and live chat.
Zoho meeting is used mostly with small businesses with tighter budgets. The price starts at $15 per host per month, which allows up to 25 participants. There is a free version of Zoho Meeting and a free trial as well.
Features:
It has capabilities to integrate with the rest of Zoho apps
Participant reminders, direct links, and webinar recordings
It comes with feedback tools like polling and Q&As, broadcast messages
A great in-depth analytics tool help for tracking participants
Automated emails
Customizable registration forms
Excellent customer support
10. WebinarNinja
WebinarNinja is a cloud-based webinar software for businesses and individuals who can host a live and automated session or recorded webinars. They quickly gained as a modern and reliable webinar platform.
The platform is used from BareMetrics, AppSumo, and others and it comes with great list of features. You have automated replays on a schedule, or you can combine pre-recorded and live elements.
The integrate with Zapier gives you access to over 1,000+ third-party apps. It is available on annual or monthly subscriptions.
The pricing starts at $49.00 per month, per user. WebinarNinja does not have a free version but they offer a free trial.
Features:
Integration with Zapier
Insert your Facebook Ad tracking pixel
Reporting/Analytics tool for webinar performance
Includes built-in landing pages, email sequences, and slide templates
Customizable Branding
11. JetWebinar
JetWebinar offers a real-time broadcasting platform specifically built for hosting high attendance webinars. The platform is perfect for educators, event professionals, and marketers.
Based on their claim events with over 10,000 attendees have less than 300ms lag. The webinar broadcasts that can be viewed from any device, mobile or desktop.
Hosting a webinar directly into a user's browser has the main advantage that you can reach more users.
Features:
Customize the webinar experience to your brand
Flexible API interface allows integrations with a wide variety of application
Sets your webinar to plays automatically to different time zones
Make the illusion of live webinars realistic
Smart webinar bot encouraging users to sign up by the illusion of a webinar just about to start
Analytics tool for performance of your webinar
12. Demio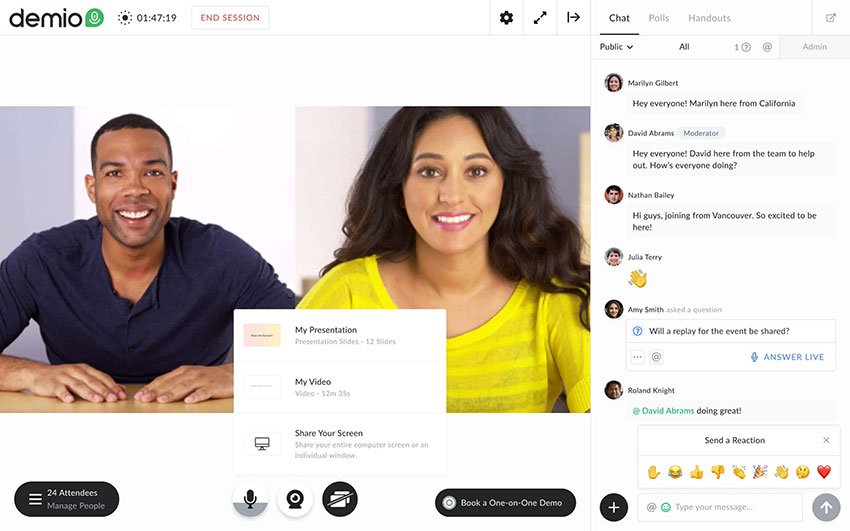 Demio is one of the best webinar software platforms and you can find the platform is getting really high ratings from users. The platform includes features like registration management, screen sharing, customizable branding, video streaming, reminders, and more via a cloud-based webinar solution. 
Your attendees do not have to download any software and can attend the webinar right from their browser. You have the ability to automatic record the webinar in HD in the cloud and send a shareable URL.
The price starts at $49 per month for a 50-attendee room and one host or you can get a 30% discount on all plans if you pay annually. Demio offers a 14-day free trial, to test the service before paying.
Features:
Automate replays of your webinars
Send automatic email reminders
Automatically recorded in HD
Ability to offer files for downloading
Integrations with Zapier
Analytics tool for webinar performance.
If you like to read more about top marketing tools that can help you grow your business check our Resources section.