In today's modern world and so many apps is hard to find the best budgeting apps. According to financial research, over 33% of Americans have no budget plan in place about how to spend and pay bills each month.
We've done some research to help you narrow down your choice for budgeting app for your smartphone. The best budgeting apps will help you monitor your monthly spending and find wholes in your spending.
The 8 Best Budgeting Apps of 2020
Below is a brief table with a highlight of each app.
Personal Capital
Personal Capital is an investment management service is designed for more advanced budgeters and combines the AI robo-advisor algorithms with access to human financial advisors.
You can download the basic app free from the app stores. Their financial apps are used by millions of people.
Besides budgeting and a great UI of presenting your finances, the app also offers important investment tools. If you decide to take advantage of their investment tools to build wealth, based on the dollar amount of assets you have managed is calculated the fee.
This also gives you access to a financial advisor. Within the app you can connect and monitor your credit card accounts, checking, savings as well as 401(k)s, loans and mortgages.
Mint Budgeting App
Mint is a perfect for beginners budgeting tool and it helps you to easily manage all your finances in one place. It is own by the well-known accounting software Quickbooks and it is one of the oldest budgeting apps around.
Mint sorts all your expenses into different categories and tracks spending. After creating your account with Mint you need to connect your bank and credit cards accounts in order to have the app start recording your expenses.
You get alerts when you are reaching the limit or getting over your monthly budget you.
The security they used is similar to the banks since they use the same security protocols and already have experience with popular tax apps like Quicken and TurboTax.
PocketGuard Budget App
PocketGuard is another of our picks for the best budgeting apps app where you can link all your financial accounts and the app will give you excellent visibility of your total financial transactions.
PocketGuard offers a few different plans including a basic free plan while the PocketGuard Plus is $3.99/month or $34.99/year.
One of the cool features is that the app analysis your spending and helps you find ways to save money. It is tracking your monthly phone, internet, TV and helps you find a better deal to reduce your monthly service costs.
The app tracks the spending and you can see details from certain categories of spending. You can set a daily or monthly budget and see how much from your budget is left for the days or month.
GoodBudget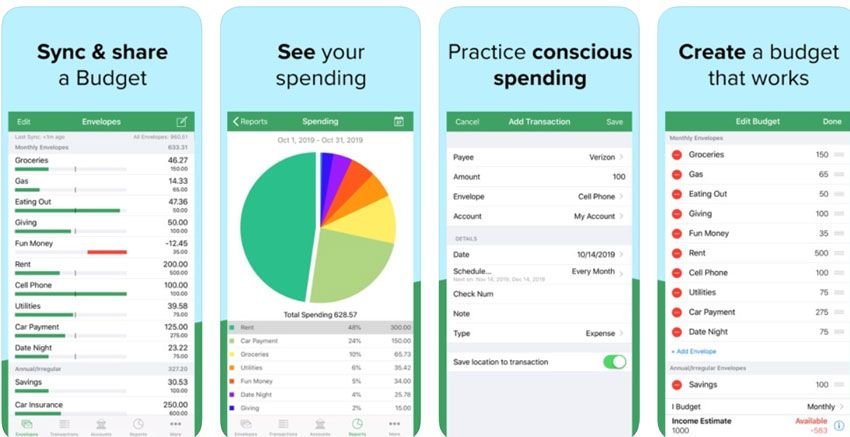 GoodBudget is a money manager and expense tracker app that keeps you on track with family and friends. It is a software-based on the envelope method.
It is a great way to plan your spending instead of just tracking your spending. This way you do not have surprises when the end of the month comes.
It has two tiers. The basic version is free and Goodbudget Plus is $6/month. You can syncing across devices, including web and share your budget with other people in your household.
Goodbudget is one of the top rated apps on Google Play store with 4.7 and on Apple store has over 4.5 rating from over 9000 reviews.
EveryDollar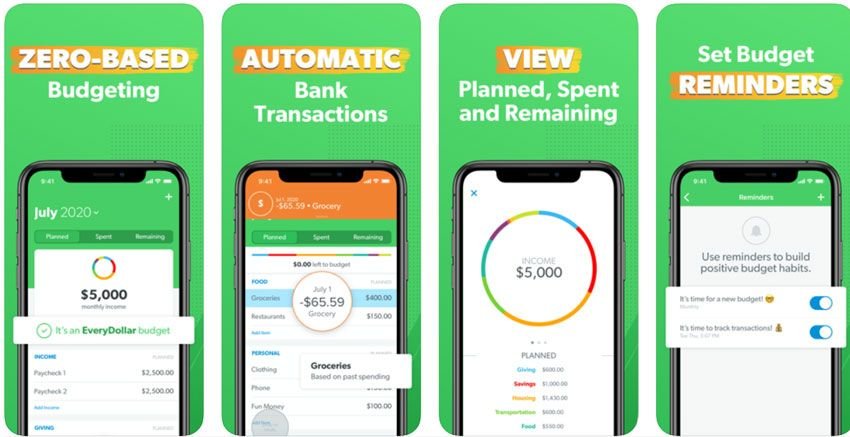 EveryDollar is another budget tool and expense tracker from the best budgeting apps list. You can set a custom monthly budget that can actually help you start saving money. You can use one of the templates and customize it to fit your budgeting monthly expenses.
For faster expense tracking and easier budgeting is better to connect your bank to the app. But this doesn't come free. If you upgrade to EveryDollar Plus to connect your bank account and expenses it will cost you around $129.99 annually.
There is app you can install on your iPhone or Android. You can sync the data to the web or to another family member.
Empower

Empower app is easy and intuitive to use and comes with a free plan and 30 days free trial for the premium and then $6/month. You automatically save 5% of your paycheck if you enable that smart auto-save feature.
This app is perfect for people who are looking for a complete financial solution in one app. An average of $1500 or more per year could be saved according to Empower.
They keep your data safe by using the latest bank-grade security features and protections, including AES 256-bit encryption, multi-factor authentication, touch/face ID.
Wally
Wally is the best way to track all your accounts, spending and set budgets so you can reach your financial goals easily. This app is more popular with Millennials.
Your expenses are recorded by manual entry or with a photo of your receipt. When a new bill is coming or when you reach a certain goal, you get notified and the app adjust to your habits.
Those who often travel abroad may find useful built-in support for virtually all foreign currencies. The app is free to use and has both Android and iPhone versions.
If you link your accounts, you'll get Wally Gold free for 2020.
Clarity Money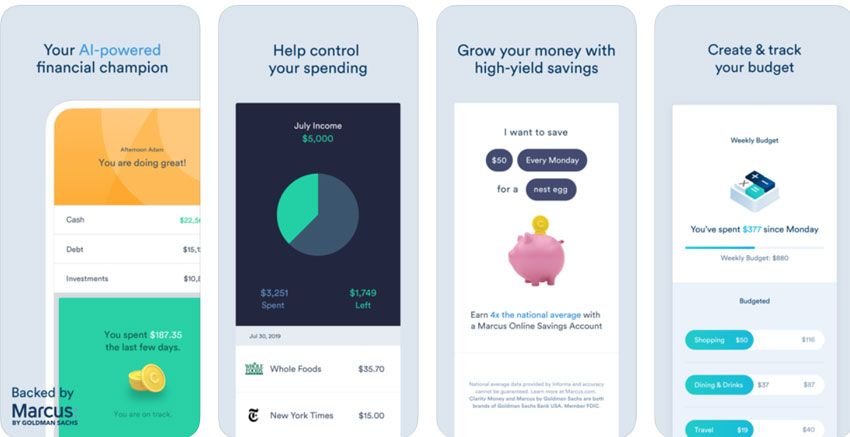 Clarity Money is backed by Marcus by Goldman Sachs. You have the ability to open a High-Yield Marcus Online Savings Account through the Clarity Money app.
The app helps you not only to track your expenses but also to cancel unnecessary expenses. Similar to the other apps you can link the app with your credit and bank accounts and the app will track all your expenses.
This app extend it features by let you access and monitor your credit score monitoring.
It is up to you which app you'll choose if you find a better app let us know. The important here is that using any of the best budgeting apps will help you track your expenses, narrow down unwanted subscriptions, or spending, and in the end, you'll be saving money.
If you like to read more about budgeting apps you may like to read: