Managing your expenses can be a challenge especially when you do not have time, knowledge and the right apps. With the help of the right money management apps, this process can be way more smooth and you could save hundreds of dollars a year.
We've done some research to help you narrow down your choice for top money management apps for your smartphone. The best money management apps will help you monitor your monthly spending and take control over your spending.
10 Best Money Management Apps of 2020
Personal Capital
Personal Capital is designed for more advanced budgeters as an investment management service and combines access to human financial advisors with the AI robo-advisor algorithms.
The basic app is free from the app stores to download. Millions of people are using their financial apps.
Some of the highlights of the app are a great UI of presenting your finances, budgeting and the app also features important investment tools. The fee is calculated based on the dollar amount of assets you have managed if you decide to take advantage of their investment tools to build wealth. 
Besides giving you access to a financial advisor, other feates like connecting and monitor your checking, savings, credit card accounts, as well as 401(k)s, loans and mortgages are available via the app. 
Mint Budgeting App
Mint is perfect for beginners budgeting tool that lets you easily manage all your finances in one place. It is own by the well-known accounting software Quickbooks and one of the oldest money management and budgeting apps around.
Mint money management tool sorts and works as it tracks all your expenses into different categories. You can connect your credit cards and bank accounts after you create your free account with Mint and then have the app to start recording your expenses.
First, you set your budgets for the month and you get alerts when you are getting over your monthly budget or reaching the limit.
This money management app has experience with apps like TurboTax and Quicken and it is using the same security protocols as the banks and so you do not have to worry about security.
PocketGuard Budget App
PocketGuard is our next pick for the top money management apps where the app will give you excellent visibility of your total financial transactions after you link all your financial accounts.
The money management app PocketGuard offers a free basic plan while the premium paid plan PocketGuard Plus is $3.99/month or $34.99/year.
This app has a really cool feature that helps you find ways to save money by analyzing your spending. It helps you find a better deal to reduce your monthly service costs by tracking your monthly internet, phone, and TV. 
You can see details from certain categories of spending where the app tracks the spending. You can see how much from your budget is left for the days or month by setting up a daily or monthly budget.
GoodBudget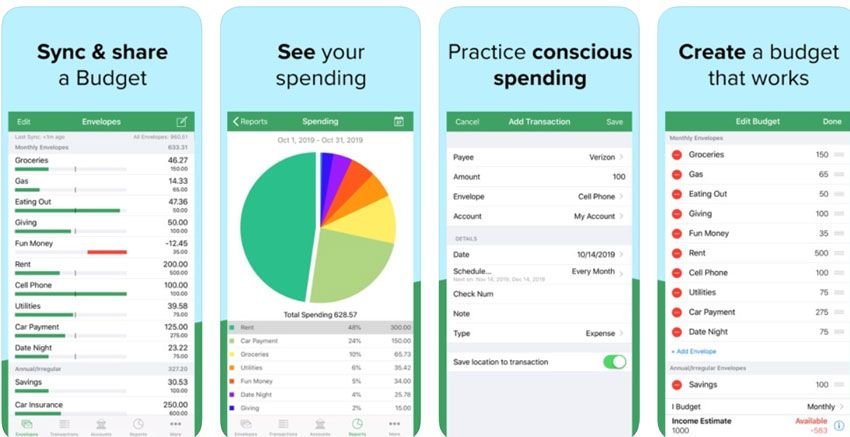 GoodBudget is a money management app and expense tracker that keeps you on track with friends and family. It is a software-based on the envelope method. 
The app not only allows you to track your spending but also to plan your spending. When the end of the month comes the app doesn't let you have surprises.
The app has two tiers including a basic free version and a premium $6/month plan called Goodbudget Plus. You can enable sharing your budget with other people in your household or sync your devices, including web.
Goodbudget is one of the top rated apps on Google Play store with 4.7 and on Apple store has over 4.5 rating from over 9000 reviews.
Acorns
Acorns let you take control with all-in-one investment, retirement, checking and more. Acorns is California-based company employs about 100+ people.
Acorns allow you to round to the nearest dollar for every purchase you make and investing the difference. This app is a great addition to our best money management apps and it is a great way to invest in your future.
Found money is an option, wherein when you shop with Acorns Found Money partners, the 300+ top brands that they automatically invest in your Acorns account when you shop.
Acorns is a micro-savings app similar to Digit and Qapital,
Acorns commission is $1 a month for accounts under $5,000. A free Acorns Core accounts can open students with a valid .edu email address.
YNAB (You Need A Budget)
You Need a Budget (YNAB) is a budgeting tool that lets you manage and have better control over your finances.
YNAB was founded co-founded in 2004 by Jesse Mecham and Julie while they were still students. First, they created it for themselves but it was working so well and better than other popular budget apps so they rolled it out to the public.
You Need A Budget can teach you how to manage your money and get control of your financial life.
The paid plan can be billed annually at $83.99 or at $6.99 per month. YNAB will give you a high return on investment and average people can save hundreds of dollars with this budgeting and money management app program.
Wally
Another app that can help you reach your financial goals easily is called Wally and lets you set budgets and track all your accounts' spending. This app is more popular with Millennials.
Your expenses are recorded by manual entry or with a photo of your receipt. Also, you get notified when a new bill is coming or when you reach a certain goal such as a savings goal and the app adjusts to your habits.
The built-in support for virtually all foreign currencies may be extremely useful for those who often travel abroad. The app is free to use and has both Android and iPhone versions.
You could get Wally Gold free for 2020 if you link your accounts. 
Status
Status lets you earn cash rewards while improving your finances, get advice anonymously and manage your finances.
Their algorithms analyze your balances, transactions, and interest rates to find ways for you to improve. They use bank-grade security standards and 256-bit encryption to protect your data. Your personal information is never sold to anyone and it is kept private.
This app is great for tracking spending and making spending plans and the best part it is free. You can track your credit score and get alerts when accounts are added to your credit file. Using your peers as a benchmark, you can set income goals and spending limits.
Clarity Money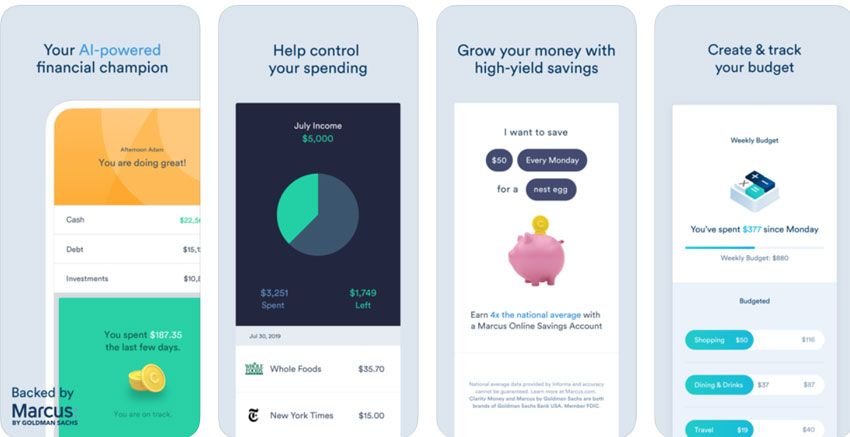 Clarity Money lets you open a High-Yield Marcus Online Savings Account through their Money app and it is backed by Marcus by Goldman Sachs.
The app helps you not only to track your expenses but also to cancel unnecessary expenses. Similar to the other apps you can link the app with your credit and bank accounts and the app will track all your expenses.
This app extend it features by let you access and monitor your credit score monitoring.
Simple
Simple has helped customers to budget and save since 2012 and it was one of the first mobile banking apps. This app provides an easy-to-use budgeting tool, and it is also tied to a bank account.
You'll have an easier time keeping up with your spending habits and goals over time if your bank account and budget are on the same platform.
If you're looking for a budgeting or savings app alone, it may be worth checking out the other options before signing up with Simple.
It is up to you which app you'll choose if you find a better app let us know. The important here is that using any of the best money management apps will help you track your expenses, narrow down unwanted subscriptions, or spending, and in the end, you'll be saving money.
If you like to read more about budgeting and saving money management apps you may like to read: