Real estate affiliate programs let the information and resources to be shared with buyers and sellers.
You can promote the real estate niche by focusing on a sub-niche just like HomeToGo or featuring different real estate properties for rent or for sale, as a general niche.
You can join hundreds of real estate affiliate programs available in the financial blogging niche.
If you have been thinking about starting a new blog, but now sure which niche to enter, this post may give you some ideas. I've gone out and researched 7 of the best real estate affiliate programs that will make you money.
Top 7 Real Estate Affiliate Programs for Bloggers
Below we'll show you some of the top real estate affiliate programs for bloggers looking to monetize their blogs.
Foreclosure.com Affiliate
Foreclosure.com is an affiliate program for publishers providing revenue stream and it is established as an industry leader.
If a customer comes from your site to theirs and then comes back to purchase six months later, you get credit.
Not only can you join their team and help spread the word about foreclosure.com property listings, but you can also get rewarded for your efforts. Their system pays top commissions for every active subscriber you send by tracking referrals.
Affiliate Commissions: 25%
Real Estate Express

Affiliate Programs
Real Estate Express is Nation's Top Real Estate School.  Their platform offer post-licensing courses, online pre-licensing courses, and real estate exam test prep.
Your audience using the Real Estate Express affiliate program, can have access to a nationally accredited platform for real estate licensing. 
A great rating of 4.5 out of 5 stars from over 20,000 reviews have earned their board and state-approved courses. This program offers a 45-day cookie duration.
Earn 20% each time a student purchases through the Partner Affiliate Program links on your website.
Affiliate Commissions: 20% per sale.
Buildium Affiliate Program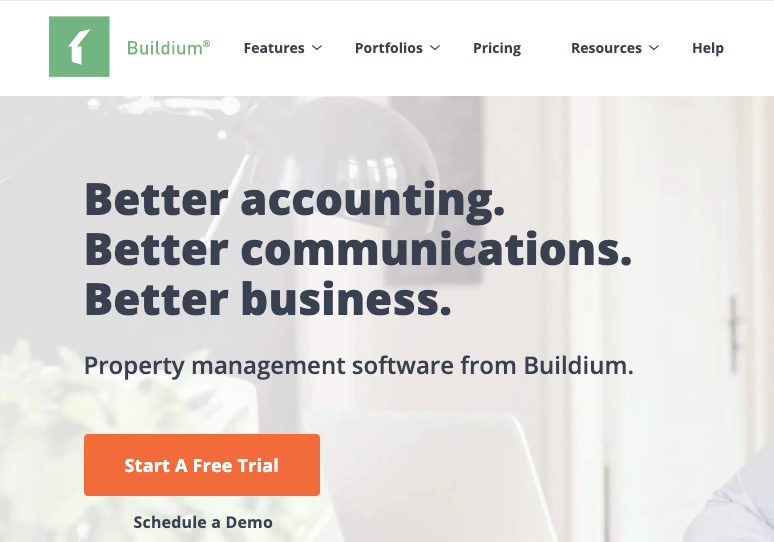 Buildium is an American property management software company, founded in 2004 in Boston, Massachusetts, providing cloud-based, real estate software.
Using Buildium you'll earn 25% in commission for each monthly subscription that comes from your website as well as you'll get paid for qualified leads. 
Buildium's property management platform makes it possible for managers of residential and association properties to take complete control of every aspect of their business
A monthly or annual subscription includes on-demand help and training as well as award-winning support from their dedicated customer care team.
To apply you have to sign up with either using your CJ, ShareASale or FlexOffers. This program offers comprehensive resources and tools to help you promote.
Affiliate Commissions: 25%
HomeAway

Affiliates Program
HomeAway affiliate program provides a unique alternative to what's offered through the popular Airbnb platform.
They're a leading provider of vacation rentals with more than 2 million properties. Using this website unoccupied residence can be listed and bring extra income to owners while travelers can book high-end private properties around the world.
Earn payouts on completed vacation rental listings by referring traffic to HomeAway.com. HomeAway is offering an alternative to costly hotel accommodations by providing travelers an extensive selection of places where they can relax.
HomeAway also functions as an online booking solution by enabling vacation rental owners and property managers to easily manage bookings online.
Affiliate Commissions: 3% or $20 for every new listing you refer
Real Estate

Affiliate Program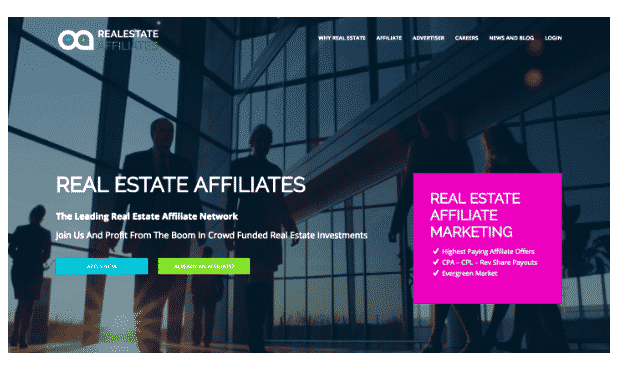 RealEstateAffiliates.com is positioned as the leaders in Real Estate Offers. They built their network around Crowd Funded Real Estate.
This is another suggestion from our Real Estate Affiliate Programs list where you can earn commissions by partnering with the world's most widely recognized brands.
Revenue Share lets you receive recurring commission for all transactions from your referrals who enter into with of their partner advertisers and it is another great source of earning money.
Their affiliate managers are experienced and dedicated to making your journey with them an outstanding success.
Affiliate Commissions: 25%
Lending Tree Affiliate Program
Lending Tree is America's largest online lending marketplace. It connects borrowers with multiple lenders.
LendingTree allows borrowers to compare competitive rates and terms across an array of financial products and shop. You get the most competitive offers because lenders are competing for your business. 
Established in 1996, LendingTree is based in Charlotte, N.C.
Affiliate Commissions: Up to $70 per lead
Corporate Housing by Owner
Corporate Housing by Owner is an advertising outlet for property managers and rental property owners to market their rental properties to travelling professionals and companies.
This program includes virtual assistance, training courses, coaching, sales tools and advice, and it is a great for serious real estate investors.
They are the largest of corporate housing rentals throughout the United States and the world. People who are looking for housing for a week, a month, and longer or even a day, can find great offer rentals.
Affiliate Commissions: 15%
For more great affiliate programs and tools that can make you money check some of our other posts in the Resources section.