Website builders completely changed how websites are created. To get a nice responsive website people don't need to spend thousands of dollars. Let's take a look at the top website builders for 2020.
Top Website Builders 2020
1. Wix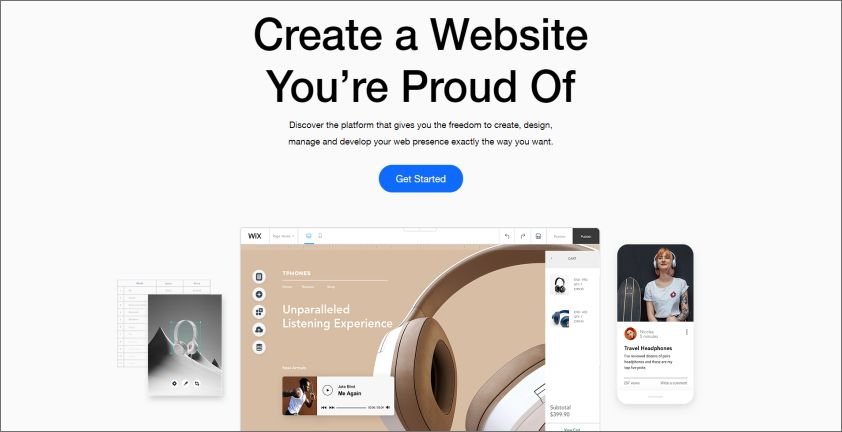 One of the best free website builder available today is Wix. It comes with a free cloud-based hosting. 
You can purchase from the marketplace paid apps or use some of the available free that you can install on your website. 
Free websites on Wix has a 1GB of bandwidth limit and 500 MB of storage. Wix offers an automatic site backup that you can use at any point to restore your website.
Their paid plans start at $5 a month up to $25 a month
Features:
User-friendly drag-and-drop editor
No commissions when selling online
Great collection of templates
Automatic site backup
App market
2. Shopify
Shopify is the leader in eCommerce websites platform. Shopify's biggest differentiation and most important feature from its competitors is the app store. 
Their eCommerce website builder power almost a million websites and it can be used by any small business. Some of the features that comes with it include hosting, your own domain name, a free SSL certificate, professional themes, and marketing and SEO features.
Shopify is the standard when it comes to eCommerce and has continue innovating with new features like Shopify Payments, Shopify POS, and Shopify Augmented Reality.
Shopify eCommerce website has powerful tools that help you find customers, drive sales, and manage your day-to-day.
Shopify currently powers over 160,000 retailers in 100 different countries, including Gatorade, Tesla Motors, Forbes, Amnesty International, Encyclopedia Britannica, and others.
Shopify pricing plans start at $29 per month for the basic plan and you have 14 days free trial with a total of 3 different plans for you to choose from.
Features:
Easy to use
Automatic carrier shipping rates
Modern and Stylish Templates
Great Customer Support
Wide variety of Payment Methods
App store
3. GoDaddy Website Builder
GoDaddy Website Builder is backed by the largest domain name and hosting service providers in the world – GoDaddy. Their website builder offers a limited set of features with fewer design options.
The platform was redesigned with a modern, new design a few years ago, adding features like eCommerce, marketing and SEO and an improved interface. It allows people to create their own websites without the need of any coding experience. 
 There is a GoDaddy WordPress Website Builder for websites as well.
Price starts at $5.99 per month for personal plans, while the business plan starts at $9.99 per month. E-commerce features start at $25 per month.
Features:
Simple and easy to use
Professional images from Getty Photography
WordPress website builder
Online store builder
Step-by-step walkthroughs
Payment integration for online stores
24/7 expert support via phone, email, and ticketing system
4. WordPress
WordPress is powering over 30% of the websites in the world and it is the world's most popular content management system. We are all familiar with WordPress.org but they also offer a self-hosted WordPress.
Every month are produced around 87 million new posts using WordPress. The free plan offers basic features for personal use or business and it comes with free hosting and a WordPress subdomain. Their paid plans subscription offer ad removal and design customization.
Unfortunately, WordPress.com randomly inserts ads into your content, and you have no control over which could be a main downside. You can customize the appearance, content, tools, settings, and much more.  
Up to 3 GB of disk space is available for the free plan. The premium plans cost start at $4 and it can go up to $45 per month and offers different features.
Features:
Best platform for professional blogging
Easy-to-use online editor
Special features and plugins for business sites
Tons of free themes
Easily update WordPress site by one click on the update button
Powerful eCommerce
5. SquareSpace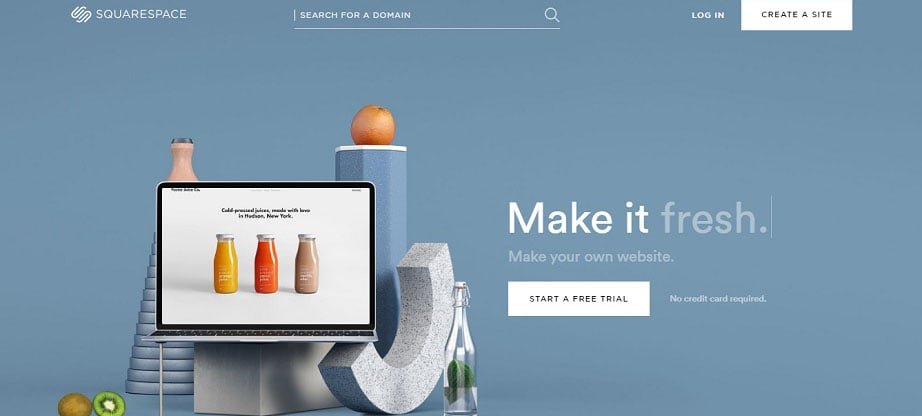 SquareSpace is a popular professional website builder known for easy to use service. Drag and drop elements make it easy for its customers use pre-built website templates and create webpages.
 SquareSpace has limited integrations with third-party service, but still it is a perfect choice for many people to focus on growing their business.
They have implemented in their ecommerce plans for payment processing PayPal, Apple Pay, and Stripe. It is not intuitive to use like Wix or Weebly
The price starts at $12 per month paid annually or if you include the recommence feature you'll go to a $26 per month.
Features:
Great designs and ease of use
Blogging feature
Mobile Apps
Amazing templates
SSL security
Intelligent image optimization
CDN support
Unlimited bandwidth
6. Webflow
Webflow is an American company, based in San Francisco, that provides a service for website building and hosting. Using Webflow you can easily design, build, and launch powerful websites visually without coding.
Webflow is another website builder that can save as much money as possible while creating a website for yourself or your business. Their Designer tool is the main feature that makes Webflow stands out. It doesn't require you to actually code in order to have the flexibility of front-end coding.
Metadata controls, automatic XML sitemaps, easy 301 redirects, and canonical tags will boost your SEO.
Webflow pricing starts at $12.00 per month.There is a free version. Webflow offers a free trial.
Features:
Easily create and update pages
Built-in SEO tools
Plenty of modern templates
Flexible integrations with marketing tools
eCommerce features
7. BoldGrid
BoldGrid is a new kind of free premium website builder that is built on top of WordPress and it comes with the full WYSIWYG page editor.
You will still need a self-hosted website, because BoldGrid runs on top of WordPress. The templates support WooCommerce. This site builder requires no coding knowledge using an easy drag-and-drop editor, and it could be suitable for a little more advanced users.
BoldGrid price is $60 a year that comes with access to hundreds starter themes, website builder, integrated SEO analysis, a contact form builder, and more. 
Features:
Full advantage of WordPress
Professional design from their gallery of themes
Free testing environment
8. Mozello website builder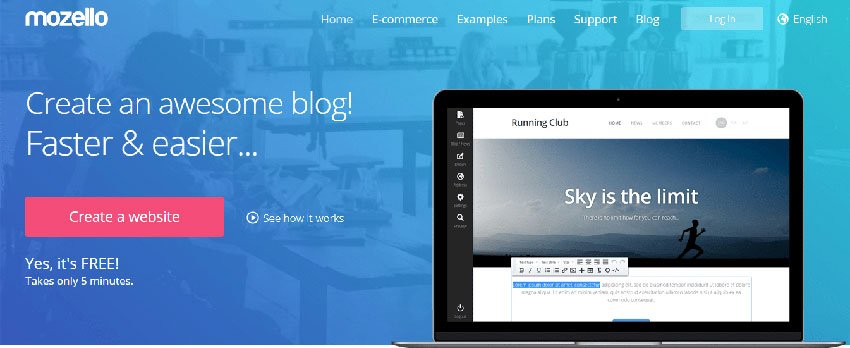 Mozello has everything you need to create a multilingual, unique, beautiful and modern website for free. 
In general, Mozello has limited features and its editor is great for beginners. Unfortunately compare to other free website builders, it doesn't include SSL security.
You'll have advertise on your site, because you are using the free website builder. You can list up to 100 items in your online store using the paid plans and it has 50 GB of storage. 
Mozello doesn't require any knowledge of web design and is fairly easy to create and edit a website with it.
The paid plan allows you to connect your own domain and the price starts at $7 per month.
Features:
It is a very easy-to-use website builder
Create multilingual websites
Powerful marketing and SEO features
Ecommerce is enabled on the free plan
Support multilingual sites for free
Integrate with external services such as Disqus or Google Analytics
9. SimpleSite
SimpleSite is the most simple-to-use website builder. Instead of choosing a template SimpleSite asks you for your name and industry and creates the layout for you.
The website builder comes with basic e-commerce features. SimpleSite is perfect not only for small businesses, but for anybody with a desire to have their own website.
Founded in 2003, SimpleSite is a Danish company that has attracted almost 30 million customers all over the world.
SimpleSite pricing starts at $1.00 per month, per user, but you can also take advantage of the free trial or just try the free version.
Features:
Very easy to use
Full mobile optimization across all devices
Unlimited images/video minutes on paid plans
Hundreds of unique designs
Adding a map on your website
Mobile-friendly editing
10. Webs
Webs is a great choice for small businesses or start-ups to create basic websites or small online shops. The integrated drag-and-drop builder makes it possible to easily customize the design.
The auto-submission of business information to 100+ local directories is incredible handy for your business to help you get more local leads.
Their robust templates are ready to be customized to your specifications. A powerful SEO tool will help you easily optimize your content so search engines like Google, Yahoo!, and Bing can find you easily.
Webs.com can suits to different types of websites with three pricing plans. The pricing starts at $5.99 per month. WebinarNinja offers a free trial, but there is no free version.
Features:
Great features list
Professional templates available
Cloud hosting infrastructure
SEO Booster feature
Membership option
Complete social media integration
E-commerce support with payment integration
The main goals of a good website builder are to save the user's time and to be flexible enough to accommodate different types of websites.
If you like to read more about top marketing tools that can help you grow your business check our Resources section.