Email Marketing is a business model, as part of affiliate marketing, where you make a commission on sales by selling other businesses' products.
Some affiliate programs offer commission others recurring commissions.
Recurring commissions from email marketing affiliate programs earn you money for every purchase your referrals make, not just a commission on their first purchase alone.
Top 7 Email Marketing Affiliate Programs for Bloggers
Today we'll look at the top email marketing affiliate programs.
Marketo
Marketo is a great choice for account-based marketing and other marketing services and products and its marketing automation software includes SEO and content creation.
Marketo provides native integrations with leading CRM platforms, including Salesforce and Microsoft Dynamics
Marketo comes with a visual drag and drop interface which is very easy to use and users to create professional email templates do not require to possess HTML skills. The users can send emails based on timing, actions, or a series of steps that are pre-defined which makes email marketing relatively easy to do.
Features:
Marketing Automation
B2B marketing & lead management
Consumer Engagement Marketing
Email & campaign management
Real-time Personalization
Personalize messages across channels
Marketing Management
Budgets & marketing calendar
Solutions
Email Marketing
Inbound Marketing
Up-Sell and Cross-Sell
Loyalty Marketing
Lead Generation
Event Marketing
Measure & Optimize ROI
Optimized Ad Spend
Price: Marketo is available on a by quote basis.
Hubspot
Hubspot Marketing brings all of your marketing efforts together in this advanced system that helps your team increase conversions and grows traffic. Hubspot offers four products: Hubspot CRM is completely free. Marketing Hub, Sales Hub, and Service Hub.
HubSpot Marketing's email A/B tests help to develop successful lead generation strategies. Hubspot is able to compete directly with marketing automation vendors like Pardot, Marketo and Eloqua.
It is easy to start running personalized email marketing campaigns by using the HubSpot email marketing software. 
You can also monitor your email marketing with baked-in analytics, so you can continually improve your open and click-through rates.
Features:
Blogging
Landing Pages
Email
Marketing Automation
Lead Management
Analytics
Website SEO
Social Media Monitoring
Calls-to-Action
Ads
Salesforce Integration
Price: There is a free version as free trial as well. Price starts at $50/month.
MailChimp
MailChimp is a Cloud-based email marketing solution that helps businesses of all sizes design, automate and manage marketing campaigns across various email platforms, ad channels and more via a unified dashboard.
MailChimp makes it easy for you to create, execute, and analyze email and ad campaigns. You can manage subscribers, generate custom reports, success rates and view click-through, track your emails through the platform itself.
You can create your own custom templates or select from a range of pre-designed templates.
Features:
Email Beamer
Email Designer
Email Templates
Integrations
Merge Tags
Multi-User Accounts
Custom Forms
Segmentation and Groups
Subscriber Profiles
Automation
Spam Filter Diagnostics
Social Profiles
Social Sharing
Reports
Email Delivery
Geolocation
Email Client Testing
RSS-to-Email
Delivery by Time Zone
A/B Testing
MailChimp Coupon Scanner
MailChimp Editor
MailChimp Mobile
MailChimp Snap
MailChimp VIPs
Mobile Signup Forms
SMS for Events
Campaign Archives
Price: Mailchimp pricing starts at $9.99 per month. There is a free version and a free trial.
Campaign Monitor
Campaign Monitor is an email marketing app that enables you to optimize your campaigns with the help of advanced analytics and detailed reports.
Campaign Monitor enables marketers to send personalized and beautiful emails
Delivering targeted content to large lists of subscribers is possible for marketers thanks to the drag-and-drop builder and engagement-based segmentation.
Campaign Monitor is using by more than 2 million marketers at 250,000 companies around the world for effective and simple email marketing that delivers results.
Features:
Template Designer
Content Customization
Dynamic Content
Roll Your Own Designs
Easy Template Language
Mobile-Ready Templates
Update in Browser
A/B Testing
Social Sharing
Segmentation and personalization tools
Price: Campaign Monitor has four pricing plans you can choose from. There is a free trial as well. The price starts at $9/month.
SendGrid
SendGrid is the leading cloud-based email delivery platform, trusted by over 80,000 of the world's fastest-growing brands such as Pinterest, Airbnb, Pandora, Spotify, Hubspot, Linkedin, Uber.
You can get detailed insights and reports using the advanced real-time analytics tools, providing on various key metrics. 
Keep a track of emails sent, spam reports, delivery rates, bounces, link clicks are just some of the things you can do with SendGrid.
You can implement on your App easily with their full Documented API or via SMTP. When you're starting a website or application you can use the free forever plan.
Features:
SMTP Service
Custom API Integration
Open & Click Tracking
Email Template Engine
Unsubscribe Tracking
Reputation Monitoring
Suppression List Management
Dedicated & Multiple IP Addresses
IP Whitelabeling
Marketing Email Services
SMTP API
ISP Monitoring
SPAM Filter Testing
Domain Level Load Balancing
Parse Webhook
Feedback Loop
DKIM Customization
SMTP Relay
Sub-user API
24/7 Support (Phone and Chat)
Price: There is a free version and a free trial. The plans start at $14.95 per month.
ExactTarget
ExactTarget is a Marketing Cloud app that helps you make the most of every customer interaction.
ExactTarget is now part of Salesforce Marketing Cloud. It lets you use powerful data management to collect, organize, and securely store first-, second-, and third-party data alongside offline data to create complete consumer data profiles.
The Marketing Cloud uses a common authentication mechanism based on OAuth 2 to create its two APIs.
Salesforce Marketing Cloud is more popular across B2C enterprises.
Features:
1:1 content personalization
Intuitive interface
CRM and cross-channel integration
Pre-built templates and themes
API support
Drag-and-drop segmentation
Lead capture
Comprehensive, real-time tracking and reporting
Email marketing
Predictive analytics
Deliverability tools
Product recommendation engine
MMS and SMS
Guided selling tools
Advanced content management
Mobile app
Sophisticated automation solutions
Single platform
A/B and random-split testing
Roles and permissions
Price: There plans start at $400 per month.
ConvertKit
ConvertKit is an email marketing software for online creators with easy-to-embed, customizable opt-in forms to turn readers into subscribers and a visual automation builder to help you send emails.
ConvertKit is a lead generation solution and cloud-based email marketing automation designed for the needs of professional course creators.
Responsive opt-in forms can be easily created and embed on your website. Based on the place where they are added such as ends of posts, sidebar, the forms automatically adjusted.
Triggered by events such as product purchases, new subscriptions, completed courses, you can create automation rules to set up automated workflows.
The visual automation tool makes email marketing simple.
Features:
Automation blueprints
Automation rules
Broadcasts
Click through tracking
Custom CSS
Custom opt-in forms
Custom patterns & textures
Custom segmenting
Customizable landing page design
Drag-n-drop interface
Drip email marketing
Email scheduling
Email sequences
Landing page templates
Multiple incentives
Open rate tracking
Personalized messages
Post-specific opt-in forms
Subscriber exclusion
Visual editor
Pricing: ConvertKit pricing starts at $29.00 per month.They do not have a free version.ConvertKit offers a free trial.
GetResponse
GetResponse is proven Email Marketing from the experts trusted by 350,000+ businesses for more than 20 years, with unmatched deliverability.
Create a new one from scratch on your own or create contents that your audience can't ignore by customizing any of the 500+ predesigned templates. There are more than 1,000 free iStock images you can choose from to give your email a more professional touch. 
A campaign tracking tool that integrates with Google Analytics is provided by the platform. 
Some other features include mobile-responsive email templates, autoresponders, deliverability, dynamic content, perfect timing, responsive design, AB testing, advanced segmentation, advanced analytics, forms.
Features:
Responsive Email Design
Analytics
Forms
Landing Pages
Webinars
A/B Testing
Subscriber Management
Template Management
Event Triggered Email
Image Library
Event Triggered Email
Image Library
Autoresponders 2.0
Email Creator
Email Intelligence
List Booster
Inbox Preview
Price: GetResponse do not have a free version but it offers a free trial. Pricing starts at $15.00 per month, per user.
AWeber
AWeber is perfect for online content creators around the world, including entrepreneurs, nonprofits, small businesses, bloggers, podcasters and others.
The engagement and interaction are simplified by the platform and equipped with a better-automated autoresponder. 
AWeber is a well integrated system that can be used seamlessly with platforms such as Cyfe, Launch Effect, Drupal, WordPress, Raven, Unbounce, Magento, and many more.
Using AWeber you can quickly build responsive landing pages, and use some of the other features like manage or load contacts, send amazing emails, and analyze results.
For the most demanding e-mail marketing operations, this email marketing software is a popular marketing solution.
Features:
Autoresponders
Email Deliverability
Sign Up Forms
Email Newsletters
AWeber Mobile App
Drag and Drop Editor
HTML Email Templates
App Showcase
Subscriber Management
Subsciber Segmenting
Email Analytics
Email Marketing Analytics
Direct Email Marketing
Permission Email Marketing
Bulk Email Marketing
Business Email Marketing
Best Email Marketing
Email Marketing Campaigns
Blog Newsletters
Price: AWeber Email Marketing do not have a free version, but offers a free trial. Pricing starts at $19.00 per month.
MailTag.io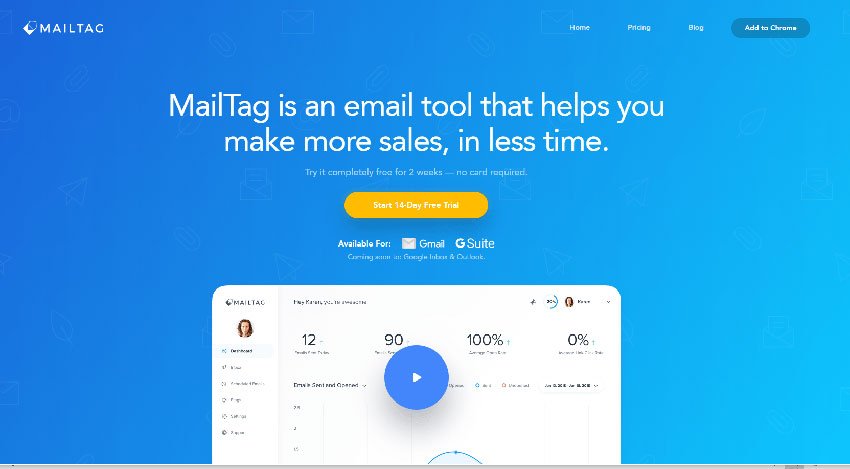 MailTag.io is an email tracking tool and scheduler that helps you make more sales. This Email Marketing system offers Event Triggered Email, Auto-Responders, Reporting/Analytics, Drip Campaigns, Customer Surveys in one place.
When your emails have been opened, you can receive real-time desktop alerts. Make your emails arrive at the perfect time, every time. Increase your open-rates by scheduling your emails at the perfect time. 
Features:
Dashboard
Subsciber Segmenting
Email History
Real-time Reporting
Template Management
Email Personalization
Email Tag
Multi-factor Authentication
Price: Pricing starts at $12.99 per month, per user. MailTag.io offers a free trial but does not have a free version.
Sendinblue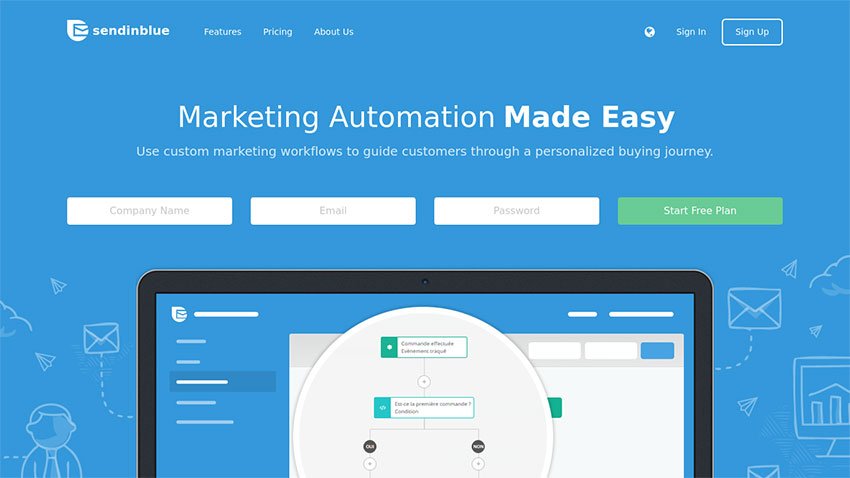 Sendinblue is a cloud-based email marketing and marketing automation tools used by 100,000+ growing companies around the world.
Sendinblue empowers businesses to build and grow relationships through marketing automation, email campaigns, transactional emails, SMS messages, chat, CRM, Facebook ads and retargeting ads.
Optimize your campaigns with insightful reporting or just design emails and segment your audience are just a few of the feautes. 
A feature called "send time optimization" helps you increase open rates by using algorithms to pick the right time in sending emails.
Features:
Marketing Automation
Send Time Optimization
Dynamic list
Email Marketing
Transactional Emails
SMS Campaigns
Transactional SMS
Real-time Tracking
Order Tracking
Subscription Forms
Dedicated IP
Spam check
Newsletter builder
Trigger marketing
Google Analytics Integration
Flexible, Customizable Layouts
Price: Sendinblue pricing starts at $25.00 per month. There is a free version and a free trial.
Constant Contact
The all-in-one marketing platform Constant Contact can help you get more leads, build your brand, and drive more revenue. 
Real-time tracking tools are provided by Constant Contact email marketing service that reports who's opening, sharing, and clicking your emails so you can plan your next steps.
You can find out in real-time who's opening, clicking or sharing your emails or social media posts using the email tracking tools.
The dashboard provides a centralized platform for scheduling and sharing content on social media as well as engaging in conversations with customers and leads.
Features:
Over a hundred customizable, responsive email templates
Drag-and-drop email editor
Auto-adjust smart columns for emails
Comprehensive image library
Up to 2GB hosting for images and documents
Intuitive landing page editor
List-building tools for websites, social media, and SMS
Email list management
List segmentation tools
Coupon creation
Client management
Multi-user accounts
Email integrations
Duplicate contact management
Social share for emails
Social posts and monitoring
Social inbox
Social analytics and engagement
Facebook and Instagram ad management
Google Ads tool
Real-time campaign tracking
Campaign comparison
Click-tracking heat map
Click segmentation
Subject line A/B testing
Marketing calendar
Email marketing automation
eCommerce integration
Event marketing
Online fundraising tools
Custom surveys and polls
Price: Constant Contact offers a free trial and a free version. The pricing starts at $20.00 per month.
Wishpond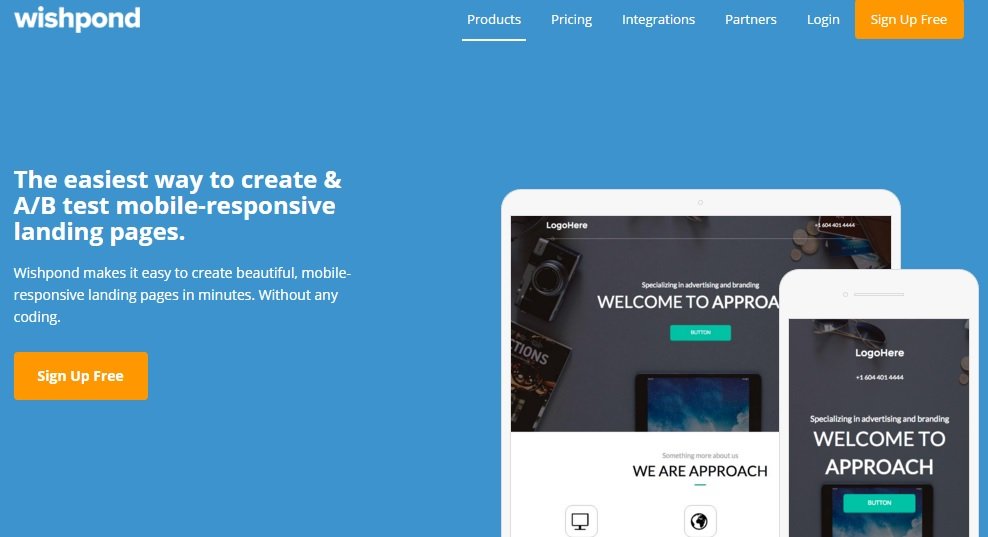 Wishpond is an easy and affordable marketing automation platform to turns your website visitors and leads into sales. 
It enable you to automatically score and segment leads into lists based on activity and personal details, send personalized emails based on behavior, and much more.
You can easily make your website SEO-friendly using this Wishpond complete suit for your online marketing needs without spending much in terms of time and money. 
To make your website spectacular and attractive for visitors, you can integrate different features. 
Features:
Market automation
Landing pages
Email marketing
Website popups
Lead management
CRM integrations
API access
Custom JavaScript
Custom CSS
A/B testing
Promotions and contests
Forms
Price: There is a free version and a free trial. Pricing starts at $69.00 per month.
iContact Email Marketing
iContact Email Marketing is perfect for small businesses, entrepreneurs, marketers, agencies, & high-volume sender.
It's including CRM functionalities, high end email marketing tools, engagement tracking, advanced segmentation, landing page creation, and social media posting and tracking.
Analyze and make reports precise about Spam checks, clicks, opened emails and shared content online.
It offers tools for A/B testing, segmentation, and a message builder to fulfill the email marketing needs of your company.
Features:
Contact list segmentation
Email marketing
Lead scoring
CRM tools
Engagement tracking
Social monitoring & posting
In-depth reporting
Landing pages
Automated workflows
Sync with Salesforce.com
Price: iContact offers a free trial but it doesn't have a free plan. prices starts at $59 per month.
Automizy
Automizy is great for Small Businesses, Startups, Marketing Consultancies & Agencies, Bloggers.
Automizy is an Email Marketing Automation software that comes with some handy features like AI-powered Subject Line Tester, Resend and Email Automation, AB testing. It comes with a powerful analytics component, the Automizy platform guides marketers and consultants to optimal results.
Automatically resend campaigns to non-openers. Increase your open rates with built-in best practices.
You can create high-performing email automations using this fully integrated automation builder.
Features:
Template Management
Reporting/Analytics
Mailing List Management
Auto-Responders
Subscriber Management
WYSIWYG Email Editor
Mobile Optimized Emails
Landing Pages/Web Forms
Drip Campaigns
CAN SPAM Compliance
A/B Testing
Price: Automizy offers a free trial and pricing starts at $9.00 per month.
Don't forget to check some of our other articles if you are looking for the best affiliate marketing programs that can give you upfront as well as recurring commission.