CRMs platforms can be free CRMs or paid but no matter which you choose they are more important than before to take your brand to the next level and in growing your business.
What is CRM system?
CRM stands for customer relationship management.
Customer relationship management is important for any size business because:
Creates a strong relationship with your existing customers
When you have a strong connection with your customers increases the chance of making numerous purchases so a bulk of that first-time buyers is not limited to just that before perishing.
When you make your customers feel welcome even after the purchase, they too start feeling some loyalty towards your brand.
Creating a friendship with your customers by letting them know they are valued.
With such a friendship between your customers and your brand with strong customer relationship management, customers are more likely to recommend your brand to others.
Below we'll look into the top free CRMs software for 2020 and how you can start using them and grow your business.
CRM Integration With Tools:
Email Marketing Integrates with CRM
Social Media Integrates with CRM
Messaging Integrates with CRM
Telephony Integrates with CRM
Live chat Integrates with CRM
Reasons to use a CRM system
Extensive Customer Data
Customer Oriented Products
To Help you get Service-Ready
Optimize Conversion Probability
Easy Access Of Data Anywhere
Growing Business Reputation
Boosting Brand Image On Social Media
Helps In Reduce Cost
Automation Of Assigned Task
Increase Coordination Among Multiple Teams
Fast Sale Conversion
Top Free CRMs for 2020
HubSpot CRM
HubSpot software platform has over 50000 customers from over 100 countries. The Hubspot CRM award-winning, software solution is necessary for any size company in order to achieve business growth.
Hubspot offers also a free CRM software that is available for use at any time. Founded back in 2005 in Cambridge, Massachusetts, Hubspot grew and establish and well-known in the CRM space. Today it employs over 3,200+ employees.
Its user-friendly interface provides valuable insights into funnel activity at each stage of the marketing-sales with real-time monitoring of the sales pipeline.
HubSpot CRM has a free version and the paid version starts at $50/month. There is a Professional Plan starting at $800/month.
Features:
Reporting dashboards
Team email
Conversations inbox
Contact & company insights
Contact activity
And more
Conversations bots
Live chat
Ad management
Contact management
Forms
Freshsales
Freshsales is a customer relationship management software that allows businesses of any sizes to manage, attract, and close their leads.
Freshsales has an easy user-friendly interface that allows email management capabilities with Gmail or with other email clients integration, a lot easier. You can create personalized email templates, schedule bulk sales campaigns, track email opens and click responses.
Freshsales comes with the auto profile enrichment feature, which automatically enriches lead, contact and account profiles with information from social.
Freshsales pricing starts at $12.00 per month, per user and there is a free version and a free trial as well.
Features:
Advanced Lead Scoring
Sales Campaigns
Insightful Email Metrics
Tasks & Appointments
Auto Profile Enrichment
Phone Activity reports
Pipeline Dashboard
Visual Sales Pipeline
and more
Integrated Phone & Email
Calendar Sync
Email Tracking
Action-oriented Follow Ups
Mobile Integration
Personalize Templates
Role-based Access
Lost Deal Analysis
Agile CRM
Agile CRM Software offer easy, powerful and affordable Customer Relationship Management (CRM) with marketing and sales automation for small businesses.
The company was founded in India back in 2003. Today It has more than 220 employees. This cloud-based customer relationship management (CRM) solution is designed for small and midsize businesses. The Agile CRM software includes features as email integration, allowing users using email services such as Office 365, Microsoft Exchange, Gmail, and IMAP services to sync their data.
Other notable functionality includes task management, where Agile CRM users can add notes, sort tasks, and update task status.
The integrations with social media let users respond or publish posts on social channels such as LinkedIn, Facebook, and Twitter.
Agile CRM pricing starts at $8.99 per month, per user and there is a free trial and a free CRM version as well.
Features:
Contact Management
Deal Management
Appointment Scheduling
Project Management
Marketing Automation
Helpdesk
Ticketing
Reporting/Analytics
and more
Landing Page Builder
Social Suite
Email Tracking
Mobile Marketing
Email Marketing
Feedback Management
Knowledge base
Gamification
Really Simple Systems CRM
Really Simple Systems CRM is founded back in 2006 in United Kingdom. It is a cloud-based customer relationship management (CRM) system designed for small and midsize organizations.
Really Simple Systems CRM provides a "free forever" plan for individual users such as freelancers or entrepreneurs.
The CRM platform enables you to manage all your aspects such as customers, contacts, tasks, marketing campaigns and sales opportunities all in one system. It provides really simple and straightforward interface.
You can get in touch with the support via email, live chat, phone or request a call back.
The free CRM version allows up to 2 users and 100 company records. Pricing starts at $14.00 per month, per user and there is a free trial as well.
Features
Pipeline management
Accounting Software Integration
Tasks, Events and Calendars
GDPR & HIPAA Compliant
Free Customer Support
And more
Web-to-Lead Forms
Integrated Marketing Module
Two-way email integration
Automated Campaigns
Case Management Module
Flowlu
Businesses of all sizes can benefit from Flowlu cloud-based customer relationship management (CRM) solution.
Flowlu offers you all essential online tools for business management, from project management to sales & finance management for teams of all sizes and industries.
Design and send professional invoices easily. Flowlu will help you optimize your expenses and increase your profit. It integrates with apps such as Google Drive and Zendesk and with payment solutions such as Stripe, Paypal, and Skrill.
It's super easy to use. It provides tools that enable you to plan and monitor projects with ease. It comes with a free CRM plan and prices start at $29 per month.
Features:
Project management
Knowledge Base
Agile Project Management
Google Calendar Two Way Sync
CRM
API and Webhooks
And more
Task management
Finance management
Invoicing
Online Mind Maps
Sales Funnels
Lead management
Bitrix24
Bitrix24 comprehensive free CRM system comes in two versions: self-hosted software or available online. It is the only free CRM system that comes with an integrated call center, so you can make and receive phone calls to/from your CRM.
It comes with complete tools for management, collaboration, and communication. A mobile solution is available for your smartphone or tablet. You get a lot of the features for free such as communication and management tools for your team, including CRM, file sharing, time management, calendars, and more.
Within the system, you can capture notes on client interactions, create message templates, send individual or group emails to leads and contacts, schedule meetings and assign tasks.
The free version allows up to 12 users. Pricing starts at $19.00 per month up to $199.
Features:
Calendar/Reminder System
Task Management
Mobile Access
Email Marketing
Daily planner
Simple access assignment
Instant messages
File sharing and versioning
And more
Quotes/Proposals
Segmentation
Social Media Integration
Lead Scoring
CRM reports
Sales funnel
Time management
Workflow
Streak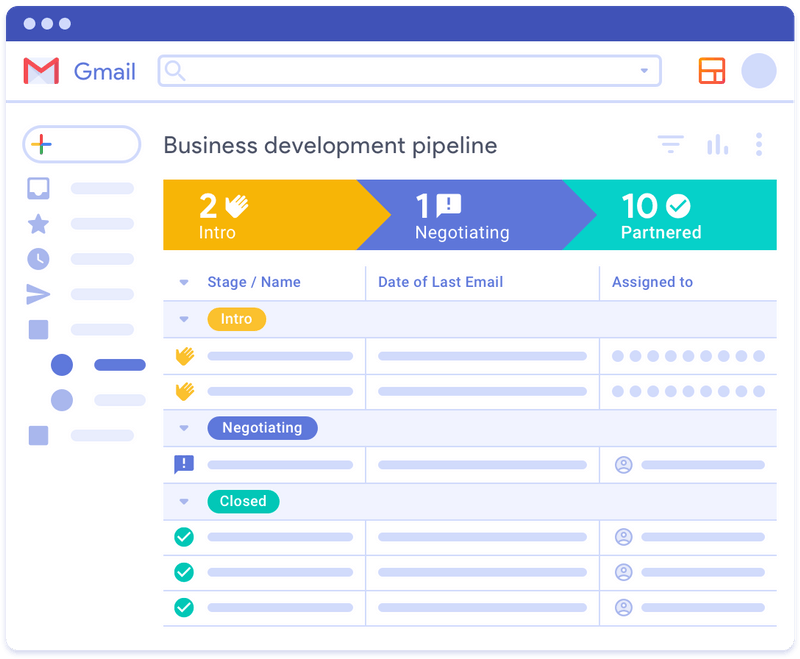 Streak is another free CRM on the list and it is ideal for start-ups, small/medium businesses, and smaller teams. it turns your Gmail into CRM. Streak offers integration with Google Apps as well.
Even larger organizations like top tech companies Uber, Twitter, Weebly, and Yelp find the Gmail plugin integration useful. Automatically capture data from your contacts and emails. Get notified as things progress through your pipeline. You have the options to share call logs with your team, notes, or automatically share emails.
The software was designed and launched by Streak Inc headquartered in California, United States. Over 750K+ businesses trusted Streak.
Streak pricing starts at $39.00 per month, per user. There is a free version and a free trial as well.
Features:
Private and shared pipelines
Email tracking
Webhook API access
Basic API access
Premium email support
Custom permissions
Adanced Zapier integration
And more
Mail merger/mass email
Search/auto-complete
Mobile access
Advanced permissions
Premium phone support
Data validation
If you feel that free CRMs are not enough for you and you want to take advantage of the paid CRMs software you can check our post about Top CRMs for 2020.