Social media scheduling tools are used by businesses or brands and it is a much-needed marketing tool.
Social media scheduling tools let your content go out on a schedule they believe would be the best time to go live so more people to see your content.
Sendible
Sendible tool is designed for managing social media accounts mainly with a focus for agency use.
The platform can work with all social media networks, allowing you to schedule or publish posts, engage with people, plan your social media strategy, get detailed analytics, and help you with your email marketing.
Their paid plans start at $29 a month and come with 1 user and 6 social profiles.
Features:
Social Measurement
Influencer Identification
Content Calendar
Social Engagement
Social Publishing
AgoraPulse
AgoraPulse is a social media management tool that enables all-in-one easy-to-use dashboard features used by freelancer marketers, businesses and agencies to manage all their social media presence in one place. You can reply to messages, publish or schedule content, identify key influencers, monitor social channels, and get detailed reports about your social posts.
Agorapulse supports social media networks like Facebook, Twitter, Instagram, LinkedIn, and YouTube, and it is another great tool from our list with top social media scheduling tools.
AgoraPulse offers a number of plans to choose from starting from $79 a month. It doesn't have a free version but it has a free trial version.
Features:
Social media post scheduling
Team collaboration
Detailed social media analytics
User role & task assignment
Post creating tools
SEMrush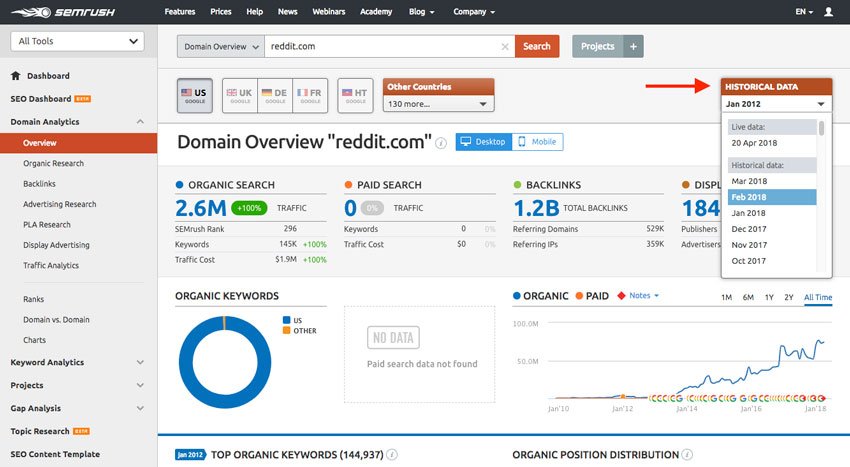 SEMRush is the best all-in-one search software tool for position tracking, keyword research, competitive analysis, and more. Over 5,000,000 marketing professionals are using SEMrush data and insights.
More than 40 SEO Software tools are included within the SEMRush software, integration with Google and task management platforms, and data for more than 140 countries.
It includes modules for analytics reports, advertising research, keyword research, backlinks research, market explorer, and traffic analytics, among others.
Founded in 2008, the company has grown to more than 650 employees. To help you learn more about SEO, SEMrush offers SEO-related services, such as ebooks, webinars, and an SEO marketing community.
SEMrush pricing starts at $99.95 per month. You can take advantage of the two add-on services: listing management for $20/month, and competitive intelligence for $200/month.
Features:
Site Audit Tool
Position Tracking
Domain Overview Tool
Website auditing
Backlink analysis
Keyword research features
SocialBee
SocialBee is another cloud-based social media management tool from our list with the top social media scheduling tools. Businesses can use SocialBee to manage posts, content, scheduling across social network platforms such as Facebook, LinkedIn, Twitter, Instagram, Pinterest and more.
Some of the cool features of SociaBee include organizing content into custom categories and schedule posting by day, date or time, a bulk editor to edit multiple posts and reject, delete or assign posts to different social profiles.
It offers a host of features such as custom URLs, RSS feeds, multiple users, role-based permissions, post recycling, preview, keyword search, reports, analytics, and more.
SocialBee offers a free trial for 14 days, after that the paid monthly plans start at $19/month up to $79/month.
Features:
Multi-Account Management
Automated Publishing
Social Media Monitoring
Collaboration Tools
Reporting/Analytics
SmarterQueue
SmarterQueue makes it easy to schedule your social posts to Facebook, Instagram, LinkedIn, Twitter, and Pinterest. There is no doubt we'll include it in our list with top social media scheduling tools.
This tool can help you extend the life of your content and help you extract maximum value and engagement by automatic resharing through its content recycling feature.
It also can help you find the most engaging posts to share using its content discovery tools. Some other cool features include advanced analytics, a social inbox, and content curation.
Their paid plans start at $19.99 a month based on features. It has a free trial, but no a free version.
Features:
Automated Publishing
Content Management
Post Scheduling
Reporting/Analytics
Social Media Monitoring
Buffer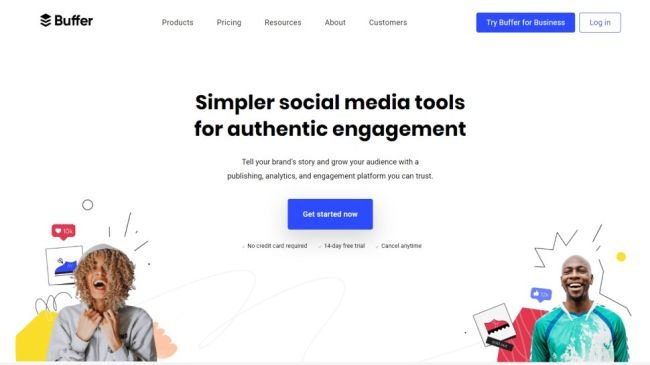 Buffer is a great social media tool if you want to share content from your browser with your social followers and supports Twitter, Facebook, Instagram, and Pinterest.
Buffer software has a powerful user interface and it is simple and easy to use. It is a social media management platform for small to midsize businesses that help users publish content, engage clients and analyze their social media performance.
The app makes it easier to create and schedule posts and it has the ability to connect to all social media accounts.
Buffer pricing starts at $15.00 per month. There is a free version. Buffer offers a free trial.
Features:
User-friendly drag-and-drop editor
No commissions when selling online
Great collection of templates
Automatic site backup
App market
TweetDeck
TweetDeck is a social media dashboard application used to manage your Twitter accounts. It was first launched in 2008 and later was acquired by Twitter and integrated into Twitter's interface.
It has introduced a desktop application and browser addons. It makes it easy for staying in touch with what is happening now by arranging your feeds with customizable columns and presenting them in a nice user-friendly way.
TweetDeck is free and does not offer a free trial or paid plans.
Features:
Automated Publishing
Collaboration Tools
Post Scheduling
Social Media Monitoring
Multi-Account Management
eClincher
eClincher is a powerful social media management app that lets you connect all your social media accounts, profiles and pages and easily manage all your social activities within one tool.
You can integrate eClincher with your Instagram, Facebook, LinkedIn, Twitter, Google My Business, Pinterest, YouTube, Google Analytics, Canva, Zendesk, Wave Video, and more.
You can try the 14-day free trial without a credit card to be required. Their paid plans start at $59/month – 1 user, 10 social profiles.
Features:
Competitor Analysis
Social Measurement
Social Analytics
Influencer Identification
Social Measurement
Hootsuite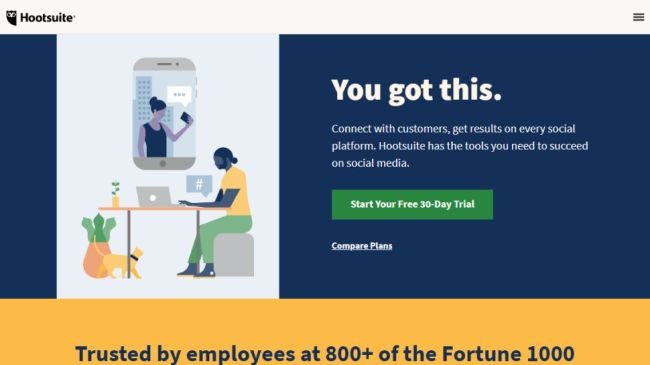 Hootsuite allows you to schedule your posts and manage multiple accounts across different platforms.
You can monitor conversations relevant to your business, your products and your industry, from within Hootsuite's dashboard. Based on hashtags, keywords, locations, and even specific users, you can monitor what people are saying.
Based on your own experience it helps you optimize what, when and how to publish. You can connect up to 3 social media accounts using the free version.
From Hootsuite you are limited to only posting onto your company page, and not allowed to private profile.
There are four plans offered by Hootsuite, starting at $29 per month.
Features:
Social Media Management
Social Performance Management
Social Media Integration
Social Advertising
Keyword Tracking
If you like to read more about top marketing tools that can help you grow your business check our Resources section.