No matter if you are using paid or free website builders, the setup process and auto-generating a website is handled by AI (Artificial Intelligence) that helps you with it. In this post, we are sharing our top 10 picks for free website builders for 2020.
One thing to know that most free website builders show ads on your website. A free website builder is good for playing around, testing but when you get to the point for a professional website you have to make a choice and go with paid plans.
What is a website builder?
A website builder is an online tool that anyone can use to create their own website without any coding knowledge, affordably, and quickly.
Top Free Website Builders
1. Weebly
Weebly offers affordable pricing if you want to go with some premium features and is one of the top free website builders people go with. You have access to a template library that doesn't have many templates but covers most niches.
Weebly is a great platform for small businesses. It makes it really easy to build your own website and in a matter of a few hours, you can have a completed website.
Weebly gives you the ability to download your entire website as a ZIP. This may not be the most advanced website builder platform but it is one of the easiest to use.
You have access to a wide variety of free and paid apps you can install from the app market even for the free plans including pricing tables, ability to include maps, Facebook Messenger, marketing tools, and more.
If you use Weebly as a free website builder you'll have an ad in the footer and doesn't come with a proper domain name. The price to use the paid features for this website builder starts at $6 per month for personal use or $12 per month for professionals. For $26 per month, you'll have access to its e-commerce features.
Features:
It is very easy-to-use
Good editing features
Membership area
Free/paid apps and integrations
E-commerce and marketing features
2. Google Sites
Google Sites offers a free basic website builder. There is a classic and new version that has limited features. Google Sites has six different layout options you can choose from and use their pretty intuitive drag and drop builder.
One really good feature is the ability to add files from your Google Drive to your page. This way you can easily store and display your documents, or forms.
Google Sites isn't a good option for small business websites, because it isn't a traditional website builder It may be a good option if you are looking to build an intranet or you just need to connect Google products. With Google Sites, you can not create a blog or an eCommerce site.
There is no paid version.
Features:
Easy to add content from other Google services
Easy to use
Perfect for individual projects
3. Ucraft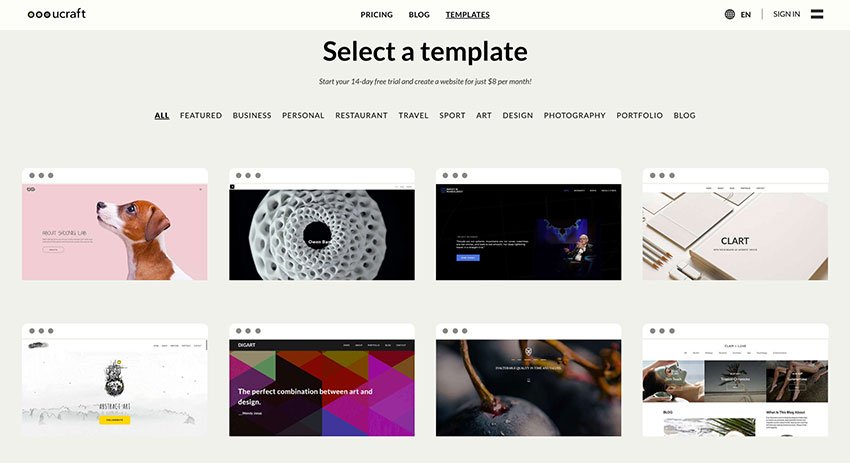 Ucraft allows you to create pages from stacking vertical blocks using the preset blocks or you can create your own from scratch. Ucraft is a block-based website builder.
The interface can be confusing and it is not so intuitive. Ucraft can be used for a simple one-page or even for more complex websites or even online stores.
Using Ucraft's designer and typography tools you can easily adjust your styles such as fonts, colors, and spacings.
You can take the advantages of Ucraft's free website builder plan and add a custom domain name. You also have a 14-day free trial on their paid plans which start from $10 per month.
Features:
Ease Of Use
Over 100 languages supported
Add your own HTML element to the page
Designer tools
SSL is included in free sites
Free built-in security and analytics
4. Jimdo
Jimdo was founded by Christian Springub, Fridtjof Detzner, and Matthias Henze. It is relatively inexpensive even if you go with the paid plans. They have a limited selection of templates but they are all responsive.
Dolphin and Creator are the two types of website builders available from Jimdo. Dolphin uses artificial intelligence to generate a site for you based on your criteria while Creator is a drag and drop builder
With the free version of this website builder, you get a very small ad in the footer.
The paid plan starts at $10 per month and will allow you to use your own domain.
Features:
Mobile app to create websites
Easy to use
Good for SEO
Modern templates
5. Mozello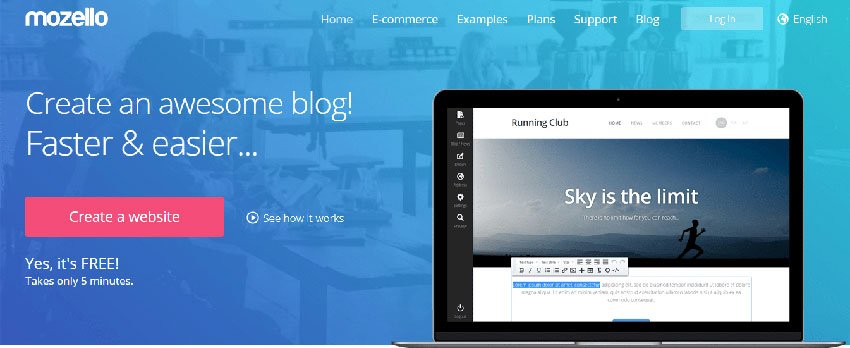 Mozello has everything you need to create a unique, beautiful and modern website. it allows you to create a multilingual websites for free.
In general, Mozello has a limited editor great for beginner-friendly, but it has limited features as well. It doesn't include SSL security like some other free website builders.
As most free website builders you'll have advertise on your site. The paid plans comes with 50 GB of storage and you list up to 100 items in your online store.
Creating and editing a website using Mozello is fairly easy and doesn't require any knowledge of web design at all.
The paid plan price starts at $7 per month and it allows you to connect your own domain.
Features:
It is a very easy-to-use website builder
Create multilingual websites
Powerful marketing and SEO features
Ecommerce is enabled on the free plan
Support multilingual sites for free
Integrate with external services such as Disqus or Google Analytics
6. SITE123
One of the most easy-to-use and intuitive website builder on the market is SITE123. It was founded in 2016 in Israel. Compare to traditional drag and drop website builders, their editor is much more efficient.
Their templates are well-designed and allow easy integration with their apps. You have also the ability to sell products through your website. You can easily customize the template to match the look and feel of their brand or personal preference
The paid plan price starts at $12.80 per month and it allows you to connect your own domain.
Features:
It is very easy-to-use
App market
Landing Pages/Web Forms
Online Booking Tools
Pre-built Templates
Great live chat support
7. Wix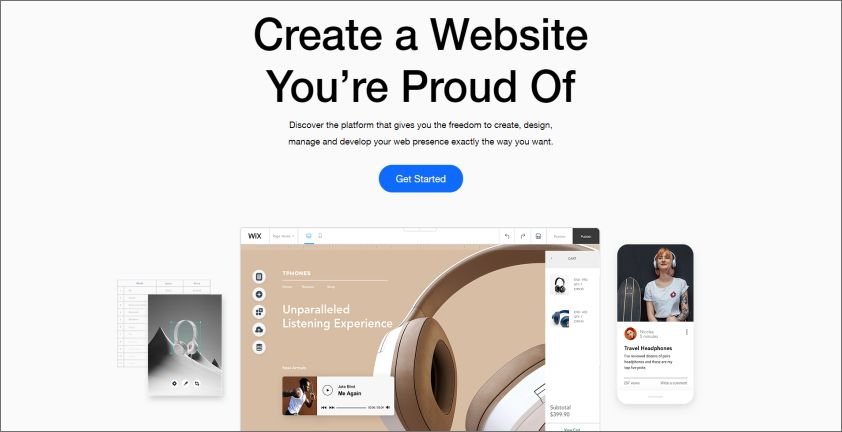 Wix is probably the best free website builder available today. It is cloud-based and you do not have to pay for hosting.
You can choose from free and paid apps you can purchase from the marketplace that you can install on your website.
One thing to consider is that Wix has 500 MB of storage and 1GB of bandwidth limit on free websites. You can use the automatic site backup that Wix offers at any point to restore your website.
Their paid plans start at $5 a month up to $25 a month
Features:
User-friendly drag-and-drop editor
No commissions when selling online
Great collection of templates
Automatic site backup
App market
8. WordPress
WordPress is powering over 30% of the websites in the world and it is the world's most popular content management system. We are all familiar with WordPress.org but they also offer a self-hosted WordPress.
Around 87 million new posts produced each month using WordPress. The free plan offers basic features for personal use or business and it comes with free hosting and a WordPress subdomain. If you want design customization and ad removal you have to subscribe to some of their paid plans.
Probably the main downside is that Wordpress.com randomly inserts ads into your content, which you have no control over. You have much more freedom in customizing the content, tools, appearance, settings, and much more.  
The free plan comes with up to 3 GB of disk space. The premium plans cost start at $4 and it can go up to $45 per month and offers different features.
Features:
Best platform for professional blogging
Easy-to-use online editor
Special features and plugins for business sites
Tons of free themes
Easily update WordPress site by one click on the update button
Powerful eCommerce
9. Constant Contact
Constant Contact is mostly known for its email marketing service, but they also offer a website builder with a free version as well. Their online builder has great features, including good value for money.
Most of the online website builders today use AI (Artificial Intelligence) to auto-generating a website. The setup process is a fairly easy answering question that helps AI to set the website you need in minutes without writing any code. A progress bar makes it easy to know where are you currently in the setup process.
With the use of their artificial design intelligence – ADI wizard you can create a completely custom web design and branding with using your own images and content or use some of the many royalty-free images available. The Constant Contact website builder comes with a content delivery network (CDN) for all of your sites, which helps your webpages to load faster.
If you want to connect your own domain and sell online you will need to subscribe to their website builder plan which costs only $10 per month. You can save if you subscribe annually. They also offer a 60-day free trial.
Features:
The free option gives you access to the full list with features
Great selection of royalty-free images
Easy-to-understand analytics
Their AI makes it easy to set a working site
Integrate with the Constant Contact email marketing service
24/7 live support through chat and phone
10. Webnode
Webnode makes creating a website remarkably fast and easy. The company behind it is Westcom and located in the Czech Republic. It is an online website builder system with SEO support and it allows you to use your own domain name.
You can choose from more than a hundred carefully prepared and easy to customize templates. In less then 10mins you can have your online presence with 3 simple steps: sign up, choose a template, and update its content.
All websites created with Webnode have SSL enabled, which lets you have a free HTTPS for safe browsing.
Webnode offers a free version and pricing starts at $3.95 per year for the premium plans. Webnode does not offer a free trial.
Features:
Responsive design makes your website look great on tablets, smartphones and computers.
Landing Pages/Web Forms
Built-in SEO tools,
Mobile editor
Online Store Builder
Fast and smooth loading
There are many website builders that can help you jump-start your business by creating an easy website.
If you like to read more about top marketing tools that can help you grow your business check our Resources section.